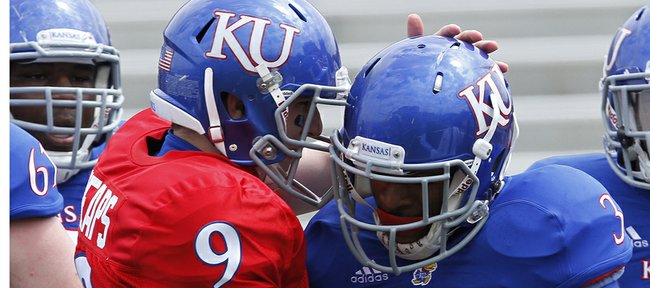 Podcast episode
Kansas football coach Charlie Weis talks to reporters following the spring game on April 13, 2013.
Kansas University quarterback Jake Heaps, who led the Blue team to a 34-7 victory over the White during Saturday's spring football game at Memorial Stadium, said his goal for his first showcase as KU's starter was to be as efficient as possible.
So when junior tailback Tony Pierson, who enjoyed a breakthrough season as a runner in 2012 and is expected to contribute more in the passing game in 2013, bobbled a pass and watched it fall to the ground on the opening play from scrimmage, Heaps had just one thought.
"Well, there goes my perfect game," Heaps joked with Pierson.
Perhaps, but from that point on Heaps and the KU offense were sensational, rolling up 352 yards and capping six drives with points during a scrimmage that featured a running clock. On the first drive alone, Heaps finished 6-of-7 for 55 yards with a 13-yard touchdown pass to Pierson. Three different players caught passes, including Pierson, who finished the drive with three catches for 39 yards and ended the day with five for 62.
"He's really kind of impossible to scheme for," Heaps said of Pierson. "When you have guys out there who can hurt you all over the football field and then you have to worry about Tony, it's tough. As you saw today, we can put him anywhere we want."
KU coach Charlie Weis, who did not lead either side but observed from the coaching box, said the game plan was to get KU's playmakers involved early and often. To that end, junior wide receiver Justin McCay snagged eight receptions for 99 yards and a touchdown, junior tight end Jimmay Mundine scored touchdowns on both of his catches and senior tailback James Sims tallied 101 total yards, including 74 on the ground on 16 carries.
The key to it all, though, was Heaps, who finished 20-of-28 passing for 257 yards and four touchdowns.
Asked after the game if he can remember seeing Heaps look that good, McCay, who last year worked exclusively with Heaps on the scout team while both players sat out after transferring, thought for a few seconds before answering.
"Jake always amazes me every time we go out there," McCay said. "He had a good day. He was MVP, so that was good."
Sure, but had he ever seen him this good?
"No," McCay added. "Not that good."
For Heaps, the unquestioned team leader and admitted perfectionist, there were plenty of aspects of Saturday's game that could have gone better, as he was sacked three times and missed a couple of throws.
"I wasn't perfect out there and there's always something to work on," he said. "That's what I'll be critiquing. ... I focus more on the mistakes than the things I do well."
But this was the spring game, after all, so Heaps allowed himself to let his guard down for a few minutes after the game when he was asked to identify his prettiest pass of the afternoon.
"I think my favorite play was when Justin made that one-handed catch," Heaps said of McCay's 47-yard grab on a deep ball late in the third quarter. "That was amazing. As a quarterback, when you have a guy who can make plays like that, it makes you have more confidence in him. We had to keep running plays, but when I got to the sideline, I said, 'Hey, making plays like that, that's gonna make me come your way even more.'"
Weis admitted the circus catch was his favorite moment of the day, too. But he was quick to point out that it wasn't necessarily Heaps' best throw Saturday.
"The touch pass to Jimmay in the red zone was the best pass," Weis said of a five-yard TD to Mundine that put the Blue squad up 21-0. "But the one that excited me the most was (the deep ball to McCay)."
Not that Weis was surprised by any of it.
"You guys saw what we see," he said of Heaps' day. "Strong arm, accurate, knows how to read coverages. You oughta be encouraged when you're watching him play because I certainly am every time he goes out."
While Saturday's game was the culmination of five weeks worth of hard work this spring, Heaps said it did not feel quite complete, even though it went very well for the Blue team.
"If you look at the roster, talent-wise, there was a dominant team out there," Heaps said. "But it was still a lot closer than what it was. The White team played us tough and they made plays out there, and I think that's a big thing for our program, to have depth and talent on both sides.
"The cherry on top is once we're all together and we're competing as one team. We want to be able to celebrate all together. This was a great showcase for guys to show what they can do, and I think we figured out a lot from this game and it's gonna be fun for our team this offseason."