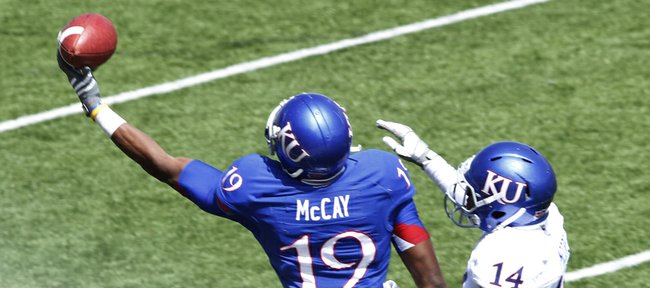 Podcast episode
Kansas football coach Charlie Weis talks to reporters following the spring game on April 13, 2013.
If anybody needed to have a big game in front of a crowd Saturday at the Kansas University football team's spring intrasquad scrimmage, it was Justin McCay, who will be both a fourth-year rookie and a junior in the fall. He had it all right and it just made him hungrier to do it in a real game, something he hasn't experienced since he was a big-time recruit catching passes for Bishop Miege in 2009.
McCay plays the wide receiver position the way a bruising power forward plays basketball. He doesn't throw blocks. He slams them. When he goes up to catch a pass in a crowd he's the one who comes down with it because he has bullied his way into position and he has terrific hands.
McCay put his soft hands and mean hands all over the Blue team's 34-7 victory against the White team Saturday in sunny Memorial Stadium. He caught eight passes for 99 yards and a touchdown and had a better day blocking than catching. Three plays stood out: Reacting to Jake Heaps' spot-on 47-yard pass, McCay jumped to catch the football with his left hand. McCay also went up for five-yard touchdown pass from Heaps on a fade to the corner of the end zone. The loudest of McCay's many punishing blocks left senior cornerback Deron Dangerfield on the ground for an extended period of time.
McCay needed a day like the one he had because he has spent the past three autumns watching others catch passes. In 2010, he red-shirted at Oklahoma. In 2011, he made blink-and-you-missed-it appearances in three games. He transferred to Kansas hoping to be granted immediate eligibility as a personal hardship case, but his appeal to the NCAA was denied. Understandably, in the weeks after hearing the bad news, he had difficulty playing with passion a spring ago. Throughout this spring, most notably Saturday, he showed why Oklahoma wanted him in the first place, even though he's not as fast as most receivers the Sooners recruit.
"It humbles you," McCay said of his long wait. "It makes you more hungry when you get on the field."
Playing on the winning side "feels good, really good," McCay said, "but I want to do it against real opponents," not teammates. "I have a chip on my shoulder. I've been sitting out for a while, so everything's personal on the field."
He boils football down to its essence and brings that attitude onto the field: "Be more physical than the other guy," he said.
Kansas coach Charlie Weis said of McCay, "He's as physical as I've seen at the receiver position blocking and he enjoys it. Most receivers don't enjoy doing it. They do it because they're asked to, not because they want to. He actually enjoys the physicality. He's not one of those guys who considers it a burden when you're asking him to block."
McCay said he tries to be "a well-rounded receiver, make the plays that come my way and being a receiver includes blocking. It's just being unselfish. You want them to block for you when you have the ball, so why not do it for them?"
During a passing-challenged 1-11 season last fall, Weis from time to time mentioned that Heaps and McCay were lighting it up on the scout team, which the coach refers to as the "show team." Perhaps he did so because thinking about the state of the passing game then was just too painful. Heaps and McCay did more than prepare the defense for the next game. They bonded.
"You can't underestimate chemistry," Weis said. Pointing to the fade play in the end zone, Weis said, "It obviously is not the first time they've done that. I think one of the reasons Jake had a big day is because Justin had a big day and vice versa. One of the reasons Justin had a big day is Jake knows where to throw it and knows where he's going to be."
The 47-yard completion on the left sideline provided a good example.
"Justin doesn't run a 4.3, so you have to put the ball in a position where he can make the play," Weis said. "Obviously, one of the things we didn't have last year, never saw a guy make an adjustment on a deep ball. He goes up and plucks it. I call it pluck-ability. Seriously, that's what Justin has. He has pluck-ability. Instead of being a 6-2, 6-3 guy who plays 5-11 guy, when he goes up after the ball he's got a chance."
And McCay has a chance to make a name for himself as a college football player come fall. Finally.