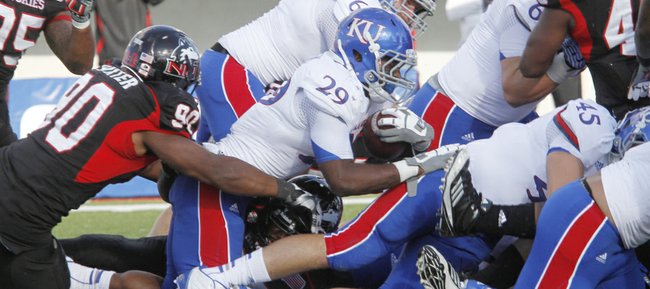 After taking its normal day off Monday, Kansas University's football team will get back to work today even though the Week Five bye leaves the Jayhawks without an opponent this weekend.
Heading into their off week with their minds full of thoughts and visions from Saturday's disappointing loss at Northern Illinois was not the way the Jayhawks hoped to spend the week prior to their match-up with Kansas State. So instead of dwelling on the loss, KU coach Charlie Weis plans to move forward.
Unlike a normal game week, Weis said the Jayhawks would get a couple of days off this week. KU will practice today, Wednesday and Thursday before using Friday and Saturday as days to recover and regroup.
"(Today) and Wednesday will be a combination practice of us-against-us for development purposes," Weis said. "And (we'll also work on) Kansas State first and second down."
Although preparing too far in advance for the next opponent could be a gamble, the schedule allows Weis to begin game-planning for K-State because the seventh-ranked Wildcats, who upset No. 6 Oklahoma on Saturday in Norman, Okla., also have a bye this weekend.
"Because they don't play any more games between now and when we play 'em, we'll treat it as if we were playing 'em this week, preparation-wise," Weis said. "We'll spend half the practice practicing against each other and half the practice practicing on Kansas State."
That's today and Wednesday. On Thursday, Weis said he planned to have a full-on scrimmage, complete with officials, a game clock and special teams.
"What I'll do is I'll scrimmage the guys that don't play as much," Weis said. "Full-speed scrimmage."
While having two weeks to think about a loss is hardly ideal, KU running back James Sims said he hoped the team would use it as motivation.
"It's tough," Sims said. "But this is a loss we gotta build on. It's gonna be with us throughout, but we have to move on from it. It's over and done with. We just didn't come through like we were supposed to."
Kickoff set for K-State
The Kansas-Kansas State football game will start at 11 a.m. on Oct. 6 in Manhattan and will be televised on FX, the Big 12 announced Monday morning.
Both KU and KSU will be making their second appearances of the season on FX. The Jayhawks fell to TCU, 20-6, in their first game on the network this year.
K-State has won three straight in the series by a combined score of 135-38. KU's last win against the Wildcats came in November of 2008, when Todd Reesing and company clobbered KSU, 52-21.
The Gridiron wins another Emmy
For the second year in a row, former KU football player Micah Brown, who most recently served as the producer of the KU football Internet series "The Gridiron," recently accepted an Emmy on behalf of Kansas Athletics for his work on the behind-the-scenes football series that ran during the 2010 and 2011 seasons.
Brown, who played wide receiver at KU from 2007-08, since has left KU and founded his own production company, Second Wind Creative, which is focused on the development of documentaries and features for Internet and television. Already this season, Brown has done productions at Notre Dame and Michigan State and has plans to do work at Iowa and Ohio State. "The Gridiron" is no longer a feature at KU.
NFL update
With seven former Jayhawks currently playing in the NFL, Sunday afternoons have become a little more interesting for KU fans. Here's a quick update on a few of them.
Former KU All-American Aqib Talib was Tampa Bay's defensive star of the game during Sunday's loss to Dallas. Talib recorded seven tackles, a pass break-up and an interception, his first of the season.
After missing Week Two because of injury, Denver Broncos cornerback Chris Harris returned to action and recorded four tackles and one pass break-up during Denver's 31-26 loss to Houston.
Former KU wide receiver Dezmon Briscoe played in his second game with Washington but is still looking for his first catch with the franchise.