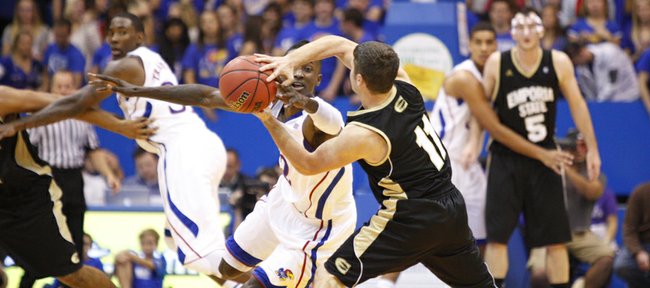 Photo Gallery
Kansas v. Emporia State (exhibition)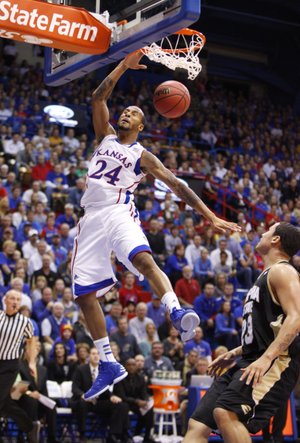 View images from Tuesday night's exhibition against Emporia State.
Podcast episode
KU coach Bill Self talks after his team's 88-54 victory over Emporia State on Tuesday, Oct. 30, 2012.
Podcast episode
KU freshmen Ben McLemore, Rio Adams and Landen Lucas talk after the Jayhawks' 88-54 victory over Emporia State on Tuesday, Oct. 30, 2012.
Box score
Emporia State men's basketball coach Shaun Vandiver knew when he saw the starting lineup for Tuesday's exhibition contest with Kansas University that his undersized squad would have its struggles.
Just a few days after out-rebounding Tulsa in an 11-point loss to former KU star and assistant coach Danny Manning's new team, Vandiver's guys did not expect to have the same luck against KU's front line.
They didn't.
In a 88-54 loss that was actually close for about 10 minutes, the Jayhawks outrebounded the Hornets, 43-23, including a 13-7 advantage on the offensive glass.
Most of the damage, however, came from places Vandiver did not quite expect, as freshmen Landen Lucas (9) and Perry Ellis (7) led the Jayhawks' rebounding effort in this season's exhibition opener at Allen Fieldhouse.
"I had a chance to see Jamari Traylor bang heads with T-Rob (last year)," said Vandiver of observing a few KU practices with former Jayhawks forward Thomas Robinson a season ago. "And he was one guy who never backed down. He came at him. Now, is he as skilled as T-Rob? No. But he still is a red-shirt freshman."
Traylor, a starter Tuesday, finished with six points, four rebounds and four steals in 16 minutes. Aside from a second-half steal that was followed by a two-handed monster dunk, the 6-foot-8, 220-pound power forward was fairly quiet, a product, KU coach Bill Self said, of his pregame nerves.
Unfortunately for Vandiver and company, there were several other Jayhawks who enjoyed a number of advantages over the Div. II Hornets, and it showed throughout the night.
"When the game got out of reach, their ball pressure took us out of our flow and our rhythm," Vandiver said.
ESU actually led for much of the first 10 minutes. Gavin Brown (14 points, six rebounds) drilled a couple of early three-pointers, and the Hornets held early advantages of 10-4 and 14-12. Those didn't last long, though, as the Jayhawks responded with a 19-1 spurt and closed the first half on a 30-7 run.
"We were up, and then the next thing I know, we were down 31-15," Brown said.
Though the lead vanished quickly, both Brown and Vandiver said they were impressed by the way the Hornets battled throughout the night.
"We just kept fighting and playing as a team," Brown said. "Nobody lost their head."
Added Vandiver, who was a standout at Colorado for three years in the late 1980s and early 1990s: "I think tonight Emporia State men's basketball took the right steps in getting better. It wasn't the result anyone ever dreams of, coming into this facility. I know. I've been here three times as a player and never walked out the victor."
With the way the Jayhawks are built, Vandiver said he did not expect many teams, if any, to have much more luck than his team did Tuesday when they come to Allen Fieldhouse this season. Asked to pinpoint KU's biggest strength, the second-year ESU coach spoke about Kansas' team-first attitude.
"The way they share the ball, the way they move the ball," he said. "On offense, the ball really never touched the ground too often, it got side-to-side-to-side, and they got open shots. It's not about the 'me,' it's the 'we' with the Jayhawks, and I think they're dangerous and very deserving of their ranking. I think their size, their length will cause people a lot of trouble."
It certainly did for the Hornets, but Vandiver said he liked the way his team responded to that and hoped his message of treating this one as a measuring stick for what they needed to work on would benefit them down the road.
"In an ideal world, you'd like to come in here and win the game," he said. "But if you win this game and then lose 20 in a row, nobody's gonna remember this game."
ESU will close out the exhibition portion of its schedule Sunday at Kansas State. KU will close out its preseason slate Monday at home against Washburn.