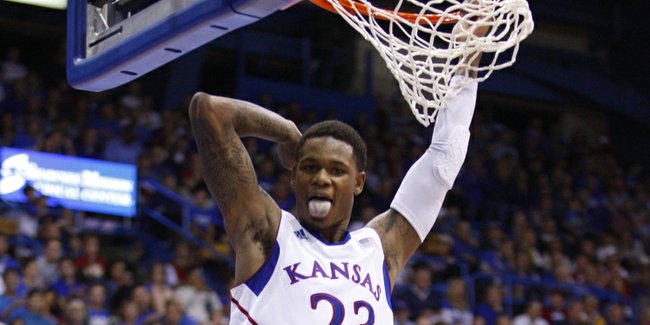 Photo Gallery
Kansas v. Emporia State (exhibition)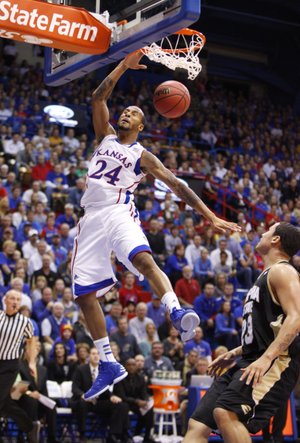 View images from Tuesday night's exhibition against Emporia State.
Podcast episode
KU coach Bill Self talks after his team's 88-54 victory over Emporia State on Tuesday, Oct. 30, 2012.
Podcast episode
KU freshmen Ben McLemore, Rio Adams and Landen Lucas talk after the Jayhawks' 88-54 victory over Emporia State on Tuesday, Oct. 30, 2012.
Box score
Arms that fall so close to the floor rank as the first eye-grabber that makes your imagination race as to Kansas University red-shirt freshman Ben McLemore's ceiling as a basketball player.
And then the game started, and McLemore made a smooth cut, received the back-door pass from Jeff Withey and flushed it 10 seconds into the game. That's how long it took him to show he has that glide that screams "elite athlete."
Then Ben drove and missed a shot, and in a blink was back above the rim getting the rebound. If we didn't know about that thing called gravity, our eyes could have convinced us that he jumped a second time without ever landing. He did land, did he not? Of course he did. Right? Must have.
It's usually a good sign when a shooter swishes a deep jumper with so little effort you could have sworn it was a 10-footer, the way McLemore did for three of his 11 points in Tuesday night's 88-54 exhibition victory against Emporia State in packed Allen Fieldhouse.
The same soft touch McLemore showed there resurfaced early in the second half when he hit a jumper inside the free-throw line. He sprints the floor like a Big 12 wide receiver and has hands for that position as well. (Charlie Weis wasn't there so see it, no doubt occupied by the challenge of a crash-course wishbone installation.)
All that and more makes NBA scouts salivate over the 6-foot-5 guard from St. Louis, but it was the moment midway through the second half that made 16,300 seated customers put their own jumping abilities to work. Elijah Johnson missed a three-pointer, McLemore kissed the sky and came down with a two-hand slam that made him an instant crowd favorite, which he will remain for as long or short as he calls the fieldhouse home.
The crowd-rocking slam made the score 61-36, not that anybody cared about those numbers by that point of the night.
"Coach was telling me I need to crash the boards more often," McLemore said. "And when I had my chance to crash the boards, it came off (with) perfect timing, and I just dunked it."
And grown men reacted the way teenagers did years ago when the Beatles crossed the ocean from Liverpool.
Power forward Jamari Traylor and McLemore sat out the first semester last year and were restricted to practice duties second semester by an NCAA ruling traced to their high school academic records. McLemore supplied the offensive highlight of the night, Traylor the defensive when he burst into a passing lane near midcourt and took the ball in for a jam.
Having an extra semester of practice compared to the rest of the freshmen for McLemore and Traylor doesn't mean they are sophomores in the eyes of their demanding coach.
"Yeah, they looked like freshmen, but they looked like freshmen who can run and jump, though," 10th-year Kansas coach Bill Self said. "But they looked like freshmen. They don't know what they're doing. But they try real hard."
NBA scouts will make McLemore's length-of-stay decision for him. Even if it's a short one, he'll improve a great deal because he has skilled teachers, talented daily practice opponents and most of all because he cares. He proved that with the dedication he showed tutors and professors last year and with the effort he exhibited on the court Tuesday.
McLemore's upbeat body language won't make anybody think of Josh Selby or C.J. Henry. Sorry to evoke those memories. It's just that when they pop into my head, I feel compelled to share them. Misery loves company.
Back to the present. Signs abounded that McLemore is serious about becoming a complete player.
When he was late recovering to Emporia State's Kaleb Wright, who made him pay by hitting a three-pointer late in the game, McLemore's disappointment in himself arrived at the same instant as that of his coach, who sent a verbal dart across the court.
In a team-high 26 minutes, McLemore committed three turnovers and, according to Self, was responsible for a teammate's because he didn't have the patience to let a screen get set. McLemore's far from perfect but perfectly positioned to stack millions and millions of dollars, thanks to a blend of physical gifts and the proper attitude.
"I could have guarded better tonight," McLemore chided himself in the postgame presser.
He certainly has guarded better players, such as the guy he had a habit of frustrating in the practice gymnasium a year ago.
"Guarding Tyshawn (Taylor) every day in practice bettered me as a player," McLemore said. "It definitely was a good learning experience."
McLemore will be schooling Division I players soon enough, and then he'll be gone too soon because that's the way it works with college basketball players whose ceilings fly so high.