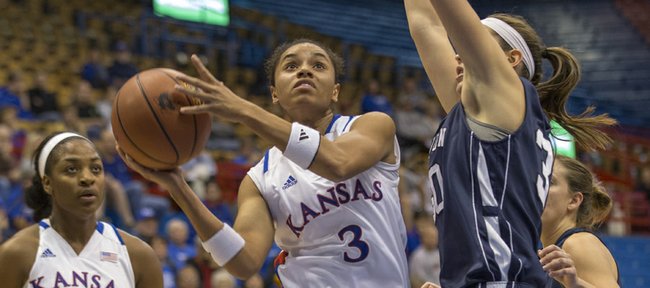 Familiar herself with just how difficult it can be to recover from an anterior cruciate ligament tear, Kansas University senior point guard Angel Goodrich had some simple advice for her teammate, Carolyn Davis, before the women's basketball team's season-opening exhibition Sunday against Washburn.
"Just go out there and play," Goodrich told Davis, who was suiting up for the first time since tearing her left ACL on Feb. 12. "Don't even think about it."
Davis, the Jayhawks' senior forward from Houston, though limited to 15 minutes of playing time, ran the Allen Fieldhouse floor, posted up and rebounded without a worry in the Jahyawks' 57-35 victory.
"From jump I was just ready to," said Davis, who produced eight points, eight rebounds and two steals despite watching the second half from the bench. "I wasn't thinking about my knee. I wasn't thinking about anything but just playing the game."
Though the 6-foot-3 Davis expects to wear a brace on her left knee for most, if not all, of the upcoming season, she now feels used to the device she initially loathed.
Davis began the game in the starting lineup, and though she passed the ball out of the post on her first touch and missed the first jumper she took from the top of the key, she converted four of her next seven shot attempts. Davis faced up on the left block and went to the rim for a lay-up to give KU a 2-0 lead. She later went glass on a fadeaway from the right block to tie the game at 4. Her next bucket came after posting up in the paint with the shot clock winding down at the 15:39 mark of the first half. Finally, she scored an easy basket on the left baseline following a nifty Goodrich pass, putting KU up 14-10 with 11:34 left until halftime.
The forward's performance pleased Kansas coach Bonnie Henrickson, who said Davis has shown progress throughout the past eight weeks, since returning to regular basketball activities.
"That's as good as she's looked," Henrickson said of her star post player's performance against NCAA Div. II Washburn.
Goodrich, who suffered a pair of ACL tears in her first two years at Kansas, said it was good to see Davis back in uniform.
"I know the excitement of getting to step out on the court for the first time in six months," said Goodrich, who had 11 points and team highs of six assists and six steals. "It's a great feeling. It's so exciting, and we were excited for her."
Henrickson didn't feel as inspired by the play of a couple of other KU forwards. After sophomores Bunny Williams, who started, and Chelsea Gardner, who started the second half in place of Davis, combined to shoot 1-for-11, the coach said both needed to do more work early in the post.
"Chelsea and Bunny are better than that," Henrickson said, "and they've got to be better than that."
Sophomore guard Natalie Knight tied Goodrich with a team-high 11 points. Sophomore Asia Boyd scored eight points off the bench, while senior guard Monica Engelman and junior substitute forward Tania Jackson contributed six points apiece. Gardner finished with five on 1-for-7 shooting.
Henrickson said the KU medical staff will continue to monitor Davis' progress, but a timetable for her playing normal minutes couldn't be predicted.
The Jayhawks' second and final exhibition against Fort Hays State will tip off at 2 p.m. Sunday.