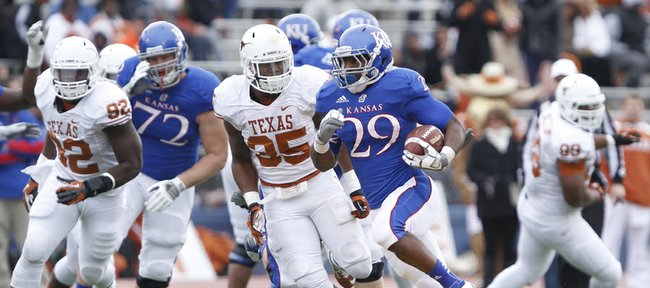 Saturday's career game from running back James Sims did nothing to change the all-too-familiar outcome for the 1-7 Kansas University football team.
Despite getting 176 yards from their top offensive weapon and leading visiting Texas for most of the second half, the Jayhawks dropped their seventh straight game and lost for the 17th time in a row in Big 12 play.
With numbers like those, bright spots can be tough to find. But it doesn't take a microscope or a magnifying glass to pinpoint the best thing this improving Kansas football team has going for it.
He wears No. 29, carries the ball with a purpose on every play and, after Saturday, has topped the 100-yard mark in four straight games, vaulting him into the conversation about the Big 12's best backs.
"I didn't learn anything that I didn't already know, that we haven't already said," KU coach Charlie Weis said Saturday. "Coming out of the spring, I said the same thing about Sims that I'm saying now, and I'll say it again. I don't know if there's a better back in this league. If they exist, I have not seen them yet."
Let's go inside the numbers for a look at Sims' special streak.
During his first game back from a suspension that forced him to miss the first three games of the season — and fueled his fire to run harder than ever — Sims ran for 91 yards and two touchdowns on 18 carries in a loss at Northern Illinois.
Those totals merely served as the appetizer for what was to come. In three of his next four games, including Saturday's loss to UT, Sims carried the ball 28 times for an average of 131 yards. In the one game during that stretch in which he failed to log 28 carries, Sims ran 27 times for 138 yards in a 20-14 loss to Oklahoma State.
Sims owns single-game team-bests in rushing attempts (28), yards (176) and touchdowns (2) this season, and he also is responsible for the longest reception from scrimmage (51 yards vs. Oklahoma State) and the longest run from scrimmage (64 yards Saturday vs. Texas).
That 64-yarder Sims ripped off against the Longhorns was the longest run by a KU player since 2006, when former KU great and current Canadian Football League standout Jon Cornish delivered a 69-yard run in the season opener against Northwestern State.
Asked when he realized Sims could become this type of multi-purpose back in his offense, Weis reiterated something he had been saying since April.
"I've known it for quite some time," Weis said.
Sims' big day against UT pushed him over the 2,000-yard mark for his career, making him just the 11th Jayhawk to eclipse 2,000 yards. Considering the junior from Irving, Texas, has four games remaining this season and an entire senior year ahead of him, it seems fair to start looking ahead at his pursuit of the top spot on KU's all-time rushing list. With 2,091 yards, Sims currently sits in 11th place, 148 yards behind Jake Sharp for 10th place.
In addition, Sims already ranks sixth all-time in rushing attempts (479) and tied for sixth all-time in career 100-yard games (nine).
KU's all-time rushing leader is June Henley, who, from 1993-96, racked up 3,841 yards on 823 carries. Tony Sands (1988-91) ranks second with 3,788 yards, and Laverne Smith (1973-76) is the only other player above 3,000 yards at 3,074.
Sims still has a ways to go before he's mentioned in that company, but his recent stretch and breakthrough season certainly seem to indicate that getting there is possible.
"I feel more confident now than I ever have," Sims said Saturday. "I've been trusting my offensive line, and they have been doing great at doing their job. I have to give those guys credit. We are an offensive unit."
Sims is a team-first player who would trade in his personal success for more wins for his team. That trait again was on display on Saturday, as Sims refused to smile while fielding questions about his big day and instead continued to talk about another frustrating step forward for his team.
"After this game, of course we are down," he said. "But we see the progress as a program. That's all that really matters at this time. We have to take it week by week, practice by practice and just continue to work as hard as we can."
Reesing spoke to team
Weis said he invited former KU quarterback Todd Reesing to speak to the team before Saturday's game against Reesing's hometown Longhorns.
"He's just proud," Weis said. "He talked about his experience, he lives in Austin (Texas), and he was kind of counting on us winning the game so he could go back to Austin and talk a lot of trash and it just didn't work out that way."
No injury news
Weis said defensive end Toben Opurum and linebacker Jake Love missed Sunday's practice, but added that he did not yet know their status for this week.
Opurum and Love were both injured on the same play late in the fourth quarter Saturday.