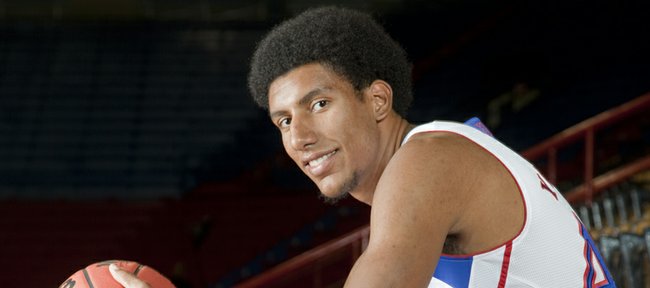 Kansas University senior forward Kevin Young suffered a broken bone in the middle of his right hand at practice on Thursday and is slated to miss about two weeks of action, coach Bill Self said Friday.
Young, who hurt the hand running into a screen, is expected to miss one regular-season game, Self said.
"He got it caught on a jersey, on a chest, during a defensive drill," Self said. "He broke a bone in the middle of his hand. Surgery was performed (Friday) morning to insert a screw. He should be back shooting and non-contact in 10 days and hopefully back on the court within two weeks."
Self reported the news to the Journal-World during the 2006-07 men's basketball team hall-of-fame induction ceremony Friday at Allen Fieldhouse.
"I think it's a setback for Kevin and for us," Self said. "He's worked so hard and has been playing so well. It'll give somebody else an opportunity to get some reps now and hopefully better prepare themselves (players who get his reps).
"I know Kevin will not lose any conditioning. The fact he can be shooting in a week to 10 days will cause him, hopefully, to not get too far behind."