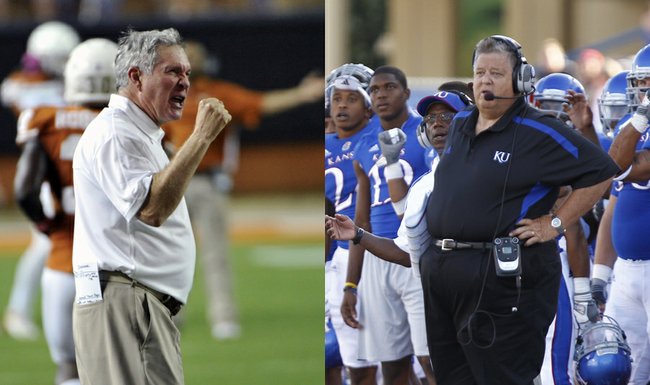 Kansas University football coach Charlie Weis and Texas coach Mack Brown seem to have different views about what constitutes rebuilding.
Weis, midway through his first season in Lawrence, took over a program that had won just five of its last 31 games and appears to be smack dab in the middle of one of the biggest rebuilding projects in the country.
Despite small signs of progress throughout the season, KU (1-6 overall, 0-4 Big 12) remains in the Big 12 basement and enters this week's game with Texas — 11 a.m. Saturday at Memorial Stadium — having lost 16 straight conference games.
Brown, on the other hand, is one of the highest-paid head coaches in the country and works at a school that not only is surrounded by five-star talent but also has athletes lining up to wear burnt orange on an annual basis.
Clearly, the two coaches are in different situations. But when Brown was asked how daunting the idea of rebuilding in the Big 12 seemed, he didn't hesitate to chime in.
"It is very difficult," Brown said. "But I'm kind of doing it, too. We started over two years ago, and we're playing 34 freshmen over the last two years."
Three seasons ago, Brown had Colt McCoy, who, at the time, was the winningest quarterback in NCAA history, taking snaps and a defense that landed nearly a dozen players on NFL rosters. When that's your starting point, playing 18 freshmen one season and 16 the next surely must seem like starting from scratch.
Weis does not have anywhere near that level of talent, and so far that has made Year One awfully difficult.
"Well, I'm new to the Big 12, and I'm just in the grind of going through this schedule," Weis said. "Anyone outside of this conference that doesn't understand the talent in this league is just missing the boat. There's just tons and tons of talent, and every week you're dealing with another set of problems."
Four of the top five quarterbacks on the pass-efficiency chart play in the Big 12, and last week alone there were more touchdowns scored than punts kicked across the conference.
"This is by far the deepest the league has been in quality teams since I've been here," Brown said. "What you're having to do now, unlike early years, is you're having to play (tough teams) every week."
Brown a fan of Weis
At Big 12 media days in July in Dallas, Brown told the Journal-World that he and Weis had a great relationship and he was thrilled to have Weis joining the Big 12. Even though the two old friends are facing each other this weekend, Brown did not back down from that stance Monday morning.
"Charlie to me is one of the great coaches in the country," Brown said. "What he did with Bill Belichick and the Patriots is just unbelievable. What he did with Tom Brady, I thought he did a great job at Notre Dame, and then you see what he did with the Kansas City Chiefs, turning that offense around just immediately."
Brown's view of Weis is not based solely on his past.
"They're a much better football team than the one we played last year," Brown said of KU. "They're well on their way. To hire Dave Campo, to me, was a brilliant choice."
Jayhawks land D-tackle
Tedarian Johnson, a 6-foot-3, 285-pound defensive tackle from Hinds Community College in Mississippi, orally committed to KU on Monday, according to JayhawkSlant.com.
Johnson, a juco teammate of KU commitment Andrew Bolton, a 6-3, 280-pound defensive end, becomes the 11th member of the Class of 2013 to pledge his services to the Jayhawks. He finished the 2011 season with 38 tackles and six sacks and currently has six tackles and two sacks in eight games.
KU-Baylor start time set
KU's Nov. 3 road game against Baylor will kick off at 2:30 p.m., the Big 12 announced Monday. The game will be televised on FSN and will be the Jayhawks' fourth straight game on the network.