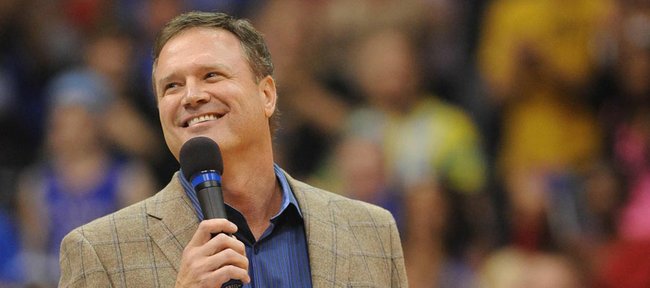 Overall, Bill Self likes what he's seen at practice 10 days into the 2012-13 college basketball season.
"I think things have gone above average, (but) I'm not giddy at all," Self, Kansas University's 10th-year coach, said Monday, commenting on progress made since the Oct. 12 Late Night in the Phog.
"We don't have enough stuff in. We have so many young kids (seven scholarship freshmen), we're probably going too slow. I need to trust them to learn a whole bunch of stuff real fast so we can get closer to being prepared to play when the real season starts.
"I like our guys," Self added. "The ball moves (on offense). We move pretty well defensively together. I think we can become really good defensively with the ability to pressure. Offensively, we don't have two guys that can go get you 35 every night. We have a nice collection of young kids, some nice veterans. They just have to get some experience."
Self spoke at length about his squad Monday, making the rounds on several radio talk shows while publicizing his "Courtside View" roundtable, set for 7-8:30 p.m. Nov. 1 at Crown Toyota Pavilion (info available at assistyouth.org). He had briefed the Journal-World and other print/Internet outlets about his upcoming Assists Foundation fundraiser on Friday.
"We don't have that star power. We don't have a lottery pick next year. If we do, it means we'll win a lot of games because that means somebody will emerge," Self told 810-WHB radio in Kansas City.
"Until our young guys get some experience, we're going to rely on those veterans (seniors Elijah Johnson, Travis Releford, Jeff Withey, Kevin Young) probably to be the mainstays, the consistent guys. I like our veterans. A lot of people would like to return the three starters we have."
KU's older and younger players, "like each other," Self said. "The ball moves, but we turn it over way too often. Hopefully this team will reflect the past team's toughness because that's one intangible I don't think people get. That team last year liked it when you had to get four stops in a row or you knew you had no chance. Hopefully this team will get to that level, too."
He told 610-KCSP radio that this year's squad had the potential to be KU's finest defensive team, "going back to the first year after the national championship (2008-09) when we had Sherron (Collins), Tyshawn (Taylor), the (Morris) twins and young Cole (Aldrich). That was a good team defensively."
That 27-8 team won the Big 12 regular-season title and reached the Sweet 16 despite four of its five leading scorers being freshmen or sophomores.
KU will meet Emporia State in its exhibition opener at 7 p.m. a week from today in Allen Fieldhouse. KU will play host to Washburn at 7 p.m., Nov. 5 in Allen, then open for real against SE Missouri State at 7 p.m., Nov. 9, also at home.
Clinic coming: Self will hold his annual coaches clinic Friday and Saturday in Allen Fieldhouse. Former Georgia Tech head coach Bobby Cremins will speak to the coaches in attendance after Friday's practice. To register for the clinic, go to billselfbasketballcamp.com.