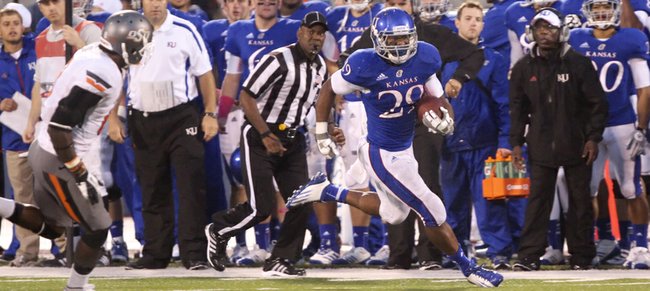 Many players in James Sims' position would have entered the 2012 season on cruise control, ready to reap the benefits of leading the Kansas University football team in rushing as a freshman and sophomore, eager to soak up the special treatment that comes with being one of the team's top players.
Not Sims.
Instead, the 6-foot, 200-pound junior from Irving, Texas, dropped 10 pounds to get faster, worked tirelessly to put himself in the best shape of his life and even watched film of his first two seasons at KU to hone in on what was missing.
So, what did he see?
"A chubby guy getting used to the offense, just trying to get out there," Sims recalled.
What does he see now?
"Just a back that's improving each week and helping the team get better," he said.
While Sims long has been known as one of the quietest guys on the roster, his teammates have been more than happy to do the boasting for him. In just three games, Sims has become one of the top running backs in the Big 12, with 344 yards on 73 carries. Because he has yet to play in 75 percent of his team's games, Sims is not eligible to be listed in the rankings. If he were, his 114.7 yards-per-game average would rank second in the Big 12 and 15th nationally.
"I think the difference between him this year and the two previous years is he's taking care of his body," senior receiver Kale Pick said. "He's eating better, he looks better, and he just has that motivation to run the ball hard."
As the Jayhawks look to keep Sims' hot start going at 6:05 tonight at No. 10 Oklahoma, a few, including Sims, shared this week how they saw this type of season coming from their top tailback.
"In the spring, there was one run where he made a couple guys miss and sprinted down the sideline, and it just got quiet," senior safety Bradley McDougald said. "We all kind of looked around at each other, we thought it was a different back, maybe D.J. Beshears, somebody fast. When we saw it was James Sims, we all just looked at each other like, 'Whoa, we might have a new James.'"
The transformation came long before Sims was suspended for the season's first three games because of an offseason DUI arrest. And while Sims admitted that sitting out fueled him to come back even stronger, Sims said he had big plans for 2012 even before the suspension hit.
"I kind of figured this year would be pretty good for me just because of all the work I put in," Sims said. "That was gonna be my mentality from the start, whether I was playing in the first couple games or not. I was still gonna give it my all."
Many players talk about giving their all, but few show it like Sims. In the last three games, the three-year starter has delivered enough notable runs to fill a highlight film, complete with power, speed and, of course, a few touchdowns. Sims said KU coach Charlie Weis' pro-style offense has been as much a part of his success as anything.
"It's a good fit for me," he said. "More downhill plays."
None of Sims' scores have come with the finishing touch he put on last weekend's 30-yard burst against Oklahoma State, which, legend has it, Sims predicted in the huddle before the snap. After breaking through the line and exploding past the secondary, Sims threw up both biceps and flexed as he rolled into the end zone, pulling the Jayhawks within six points with nine minutes to play.
"That's that confidence," senior cornerback Greg Brown said. "As long as he's flexing in the end zone, I'm good with it. I expected him to do good, but he's doing great."
Asked where the impromptu celebration came from or if he had ever done anything like it, Sims flashed a slightly embarrassed smile, dropped his head and answered.
"No, sir," he said. "It was a first. I was excited, you know. It was the start of a comeback."
At some point, whether it's this season or next, Sims' focus is likely to shift from trying to be one of the best backs in the Big 12 to becoming a back who can play in the NFL. Many believe he's already there.
"Absolutely," Pick said. "He doesn't have any weaknesses that you can just point out. He has good hands. He runs good routes, and he runs the ball hard. He's a smart kid. He's dedicated. He'll study what he needs to study. He has a good football IQ."
While Pick's words painted an accurate picture of the guy who, arguably, has become KU's best player, another Jayhawk a little more qualified to judge NFL talent backed him up.
"I can't see any reason why he wouldn't play on Sunday," Weis said of Sims. "I can't see one reason. I mean, he doesn't run a 4.3 (40-yard dash). OK, I get it. There are guys in the Hall of Fame that didn't run 4.3, either. I think he's a nice solid player. I'd want him on my team."