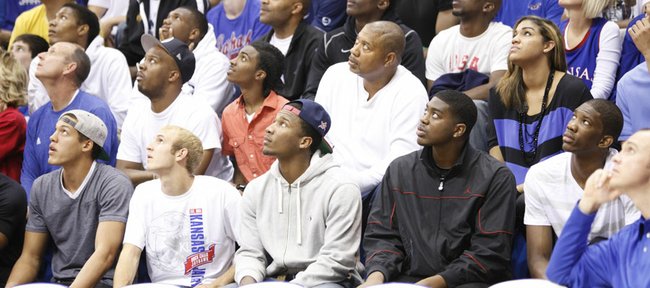 Lavette Pitts, the mother of five-star basketball prospect Wayne Selden, figured big things were ahead for her oldest son the day he was born.
"He was 11 pounds, 4 ounces at birth," Pitts revealed Monday in a phone interview discussing the 6-foot-51⁄2, 220-pounder's oral commitment to play basketball at Kansas University.
"He's a genuinely sweet kid, giving, respectful of others, real funny and so focused," Pitts added in describing the elite combo guard out of Tilton (N.H.) School, who is rated No. 14 nationally by ESPN.com and No. 23 by Rivals.com. "He's been that way from the time he was 4 or 5 years old."
Selden, who chose KU over Ohio State, Florida, UCLA, Syracuse and Missouri, showed maturity in the way he handled the announcement of his oral commitment, which Monday classified as big news in the recruiting world.
"Blown away" by Friday's Late Night in the Phog, the highlight of his weekend campus visit, Selden committed to KU coach Bill Self on Saturday night. However, he decided to fly back to his hometown of Roxbury, Mass., with his mom, dad Wayne, Sr., and godmother Edie Janas, to phone coaches from the other schools who were pursuing him.
"It was out of respect for the other schools: 'Let's not say anything until he makes these phone calls to give them the news,'" Pitts said. "It was hard for all of us to sit on it (news). We said, 'Let's be respectful of this process.'"
So after informing runner-up coaches and canceling some campus visits, Selden quietly — without the benefit of a lavish news conference — announced his decision to some national recruiting writers Monday before attending classes at Tilton.
"I felt it (KU) was the right fit for me as a person and player," Selden told the Journal-World. "I knew coming into the visit Kansas was my leader, and, after meeting the players and coaches, I knew it was the right place for me. It's like a family there."
Selden's close family members also gave thumbs-up to all aspects of the visit.
"I loved Late Night. I was more looking at it from a parent standpoint," said Pitts, who works as a program director for "The Home for Little Wanderers," which counsels inner-city youths in Roxbury, which is about an hour and a half drive from Tilton School's campus.
"After I first walked in (to Allen Fieldhouse) I was overwhelmed by it. I said, 'This is serious business here.' As we sat there, the facility seemed to get smaller because of the family-type atmosphere."
Meeting all the players and many of the players' parents reinforced what Pitts felt on an in-home visit with Self and assistant Norm Roberts: that KU might be a special place.
"As the mother of an elite athlete, I had to deal with some people not necessarily on the up-and-up," Pitts said. "To talk with coach Self and coach Roberts … I said after the visit, 'Listen, I think that school is No. 1 at this point.' We did know this is a process and wanted to go through the process. But as soon as Wayne walked in there (Allen Fieldhouse), looking so calm, I knew inside this is where he wanted to be and should be. My whole thing became, 'Why continue to look?' He loved the camaraderie of the team and coaches. I said, 'If I'm not around, my child will still feel this nurturing feeling.' I was in awe," Selden's mom added.
So she and Wayne Sr. gave their approval to end the recruiting process, with Wayne making just the one official visit. Selden's 12-year-old brother, Anthony, who couldn't make the trip because of a youth football commitment, also was fine with the decision.
"Going into the visit I knew it was my leader," Selden said of KU. "After I talked to everybody there, I knew it was the right school for me."
As far as the basketball part of the decision …
"I think I fit in well with their style of play," Selden said. "My strengths would be able to initiate offense, be able to play well in the open floor. My weakness right now is probably rebounding and off-the-ball defense that I will continue to work on."
As far as playing point guard or shooting guard, Selden said: "Wherever the coaches want me to play, I'll play."
Tilton coach Marcus O'Neil used Selden at various positions last season, including the point. Selden averaged 16 points (off 55 percent shooting), five assists and three rebounds a game his junior campaign.
"He has a unique combination of strength, speed and skill. He is a triple threat. He can shoot, drive and pass the ball," O'Neil said. "He's played point guard to power forward for us. He is a dangerous guy wherever he is on the floor.
"He's a very good student and citizen on our campus. We think Kansas is getting an outstanding young man and extremely talented player, somebody who can contribute in a variety of ways. I like his versatility. He can put points on the board."
As far as Selden, who gave up football at the age of 12, being known as a physical guard, O'Neil acknowledged: "He does a lot of pushing people around."
O'Neil also is OK with Selden's decision.
"Obviously, it (KU) has a long history of success, great tradition there," O'Neil said. "Any time you speak to anybody from that staff ... they are impressive guys, professional. Kansas meets all the criteria. After talking with his family and evaluating all the colleges, their programs and academic offerings, he made the decision that is where he wanted to be."
Selden certainly will be in the running for a spot in the McDonald's All-America Game.
"I don't really even know what position to call him, because he can play the point, because he's good at pick-and-roll. He's big enough to play the 3. He can play the 2," Rivals.com national recruiting analyst Eric Bossi said. "I wouldn't call him a shooter, but he's a big-time athlete. He makes plays happen off the dribble. The kid's 230 pounds, and it's not because he's chubby. So physically, he's ready for college basketball.
"If anything, I would almost think a strength coach may want to try to lean him down by 10 pounds when he gets to college and really sculpt what he's already got and try to add to his flexibility and quickness."
Selden during the summer decided to reclassify back to the Class of 2013 after last year deciding to be in the Class of 2014.
"Originally it was me who asked him to reclassify," his mom said. "I was concerned whether he could keep up academically. He got there (Tilton, after attending Roxbury's O'Bryant High in 2009-10) and excelled and continued to do better and better. We decided to evaluate the situation and decided to go back to his original class of 2013 because he was academically ready and physically ready. He dominates a lot of times, especially high school kids."
KU now has four commitments from players in the Class of 2013, with one left to award, more if any players leave the program early. The commitments are from: No. 22-rated Brannen Greene, 6-7 Tift County High, Forsyth, Ga.; No. 28-rated Conner Frankamp, 6-foot, Wichita North; and No. 131 Frank Mason, 5-11, Massanutten Military Academy, Petersburg, Va.