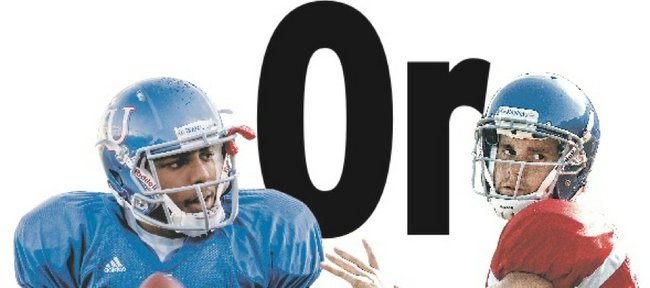 The question will be asked at least a thousand times this week, and Kansas University football coach Charlie Weis has no plans to share the answer.
In fact, the first time anyone will learn whether senior Dayne Crist or red-shirt freshman Michael Cummings will be the starting quarterback for this weekend's game at Oklahoma likely will come when the KU offense trots onto the field for its first drive at 6 p.m. Saturday in Norman, Okla.
There is, however, enough evidence to suggest that Weis will give Cummings a serious look as the starter during practice this week. Don't be surprised for a second if Crist and Cummings are listed atop the team's depth chart together when the updated version is released Tuesday.
"I'm not ignorant now," Weis said Sunday night. "I saw the juice the team had in the fourth quarter. I can't be oblivious to that, and I have to factor that in as we're getting ready to go forward."
Although Cummings' final numbers were merely average, the energy and excitement he injected into the struggling KU offense brought a different dimension to the field and nearly propelled the Jayhawks to an improbable come-from-behind victory.
In a little more than a quarter, Cummings completed five of 10 passes for 75 yards and a touchdown. While he wasn't flawless, he took a team that had gained just 236 yards through three quarters and led it to a grand total of 398 by game's end, 28 more than Oklahoma State. Beyond that, he impressed his head coach in a couple of key areas.
"There was one timeout when I called him over and said, 'Now remember on the last play that we ran, this is always a possibility,'" Weis recalled. "And he goes, 'Yeah, I saw that, but this is what happened.' That was a very upper-level thought. It showed me he wasn't just playing the game, he was thinking about the game."
Although Cummings is a laid-back, down-to-earth dude, Weis said he saw a little extra fire in his young QB during Sunday's practice.
"Any time you see yourself go from the role of a definite back-up to the maybe starter, you perk up in a hurry," Weis said.
Of course, Weis said he saw that from a lot of players Sunday.
"They obviously are disappointed in the loss," he said. "But it's probably as upbeat as they've been since the opening game. They know, with us, the jury's always still out because people want to see whether or not this is a one-time deal."
He's back …
JayhawkSlant.com reported Sunday night that former Kansas University defensive back Dexter McDonald, who signed with KU in 2010 and played the first five games of the 2011 season as a red-shirt freshman, had recommitted to Kansas after visiting campus this weekend with his parents.
McDonald left the team following the 2011 season and enrolled at Butler County Community College, where he has played in five of the Grizzlies' seven games. A 6-foot-2, 203-pound cornerback from Rockhurst High, McDonald originally committed to Illinois but wound up at Kansas. The report indicated McDonald planned to re-enroll at KU in January.