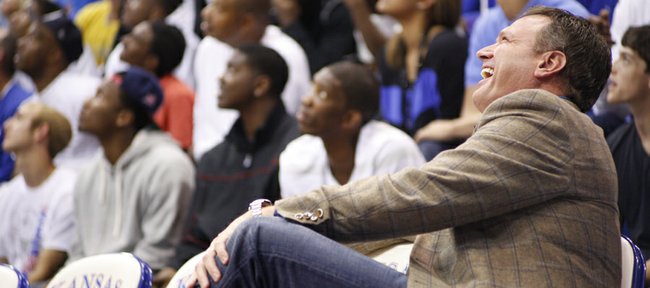 Kansas University's basketball players were back on the court — for the first real practice of the 2012-13 season — a mere 13 hours after Friday's festive Late Night in the Phog.
A few high school basketball recruits and their parents gathered with the Jayhawks at 11:30 a.m. Saturday in the team's practice facility, in stark contrast to the 16,300 who jammed Allen Fieldhouse on Friday night.
"I'd give it a 'B,'" KU coach Bill Self said of Saturday's two-hour session. "We had a good day, a good, spirited workout. They were alert, tried real hard, were enthusiastic like all first practices should be. We got a few things done, but, really, the real practices will begin after the weekend is over."
Following practice, Self headed over to Memorial Stadium for Saturday's rain-soaked KU-Oklahoma State football game.
He spent some time in the Jayhawk Network radio booth, helping fill air time during an hour-plus rain and lightning delay.
"I thought our new guys looked OK, (showed) glimpses of being pretty good and athletic, " Self said, reflecting on a 20-minute scrimmage at Late Night, 2012. "It's not real ball, but I do think it was good to see how some of the guys react. It's amazing to me how tired you get when you have adrenaline and all that kind of stuff. It's a different kind of conditioning when the lights are on and people are out there.
"They did fine, but that didn't matter. Nobody will ever look at film or think twice about it."
The newcomers did have some positive moments during the scrimmage:
Perry Ellis, a 6-foot-8, 225-pound forward out of Wichita Heights, showed effective post moves in scoring six points off 3-of-5 shooting with three rebounds.

Andrew White, a 6-6 guard from Richmond, Va., missed four of five shots, but completed a lob pass to red-shirt freshman Ben McLemore for a slam dunk. McLemore, a 6-5 guard from St. Louis, hit three of eight shots, good for six points.

Rio Adams, a 6-3 guard from Seattle, hit a three-pointer from the corner and also had a no-look pass to Jeff Withey for a slam dunk.

Jamari Traylor, a 6-8, 220-pound red-shirt freshman forward from Chicago, scored three inside hoops in five tries with three rebounds.

Landen Lucas, a 6-10, 240-pound forward from Portland, was 2-for-2 from the field with two rebounds and a free throw in two tries.

Walk-on Evan Manning of Lawrence had a rebound and assist with his dad, Tulsa head coach Danny Manning, in attendance. Walk-on Tyler Self, also of Lawrence, had a rebound playing for his dad on the sideline and his mom and sister in the stands.
"Evan is going to be a good basketball player. He's going to be a nice player here," Self said. "And Tyler, I love being around him on a daily basis. He'll be a great teammate.
"The guys on scholarship, whether it be Anrio, Landen ... these guys are talented. I really think Andrew White has a chance to be our sixth, seventh, eighth man this year as a freshman. Perry Ellis obviously has a chance to play all the minutes he wants, just stay aggressive and get aggressive.
"Jamari is coming every day, getting better every day. He's just never really played ball (until late in high school career). Of course, Ben is so talented and gifted. He's just figuring it out. Zach (Peters) is nicked up (out four to six weeks because of rotator cuff injury). He was as good a freshman performer as we had in Europe (in August). We hope to get him back relatively soon. It's a good group that I think over time people will look back and say, 'Hey that was a heck of a recruiting class.'''
Self, like the fans, was interested in watching his freshmen react to a new experience at Late Night.
"I think it (dancing at Late Night) is something they all kind of dread and think they can't do it," Self said. "Little things like that. Even though it's so minor, I've learned it is part of the growing-up process, getting comfortable and confidence. I'd have never thought Perry Ellis could do that. He's so quiet and everything. I think every time you get up to speak in front of a class or be on stage ... I think it does wonders for your confidence so you can handle things better moving forward."
KU will practice regularly the next few weeks and open the two-game exhibition season against Emporia State at 7 p.m., Oct. 30, in Allen.