Videos
2012 KU senior speeches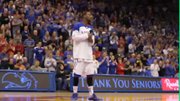 Senior speeches from Tyshawn Taylor, Conner Teahan and Jordan Juenemann following KU's 73-63 victory over Texas March 3, 2012.
Podcast episode
Kansas coach Bill Self talks to reporters following the Jayhawks' 73-63 victory over Texas on March 3, 2012.
Kansas vs. Texas
Kansas University seniors Jordan Juenemann, Conner Teahan and Tyshawn Taylor spoke to the fans following Saturday's 73-63 victory against Texas in Allen Fieldhouse.
The senior speeches followed a pair of videos — one recognizing the Jayhawks for their eighth-straight Big 12 regular-season title and the second a highlight film of the three seniors.
Coach Bill Self served as emcee, telling the fans, "They say a team is only as good as your seniors. I guess we've had pretty damn good seniors for eight years straight."
Juenemann, 6-foot-3 out of Hays High, began the proceedings with an eight-minute speech.
He opened by citing a Bible verse, indicating he wanted to "give all the glory and honor to God my sustainer."
He thanked a batch of family members, including his dad, Jerry, for telling him at an early age: "It's nice to be important, but more important to be nice."
Juenemann, who broke down and cried early on in his speech, had a lighter moment in revealing that one of his cousins was responsible for his nickname, "Flash."
He thanked KU All-American Wayne Simien for working out with him prior to tryouts his freshman year: "We ran laps, stairs. He said, 'Do you really want to run out of the tunnel? A lot of people want to do that. You know what you've got to do. Work toward it.'''
Juenemann made the team in tryouts his freshman year.
Teahan, 6-6 out of Kansas City (Mo.) Rockhurst High, was second in line to speak. His talk lasted 13 minutes.
He thanked trainer Andrea Hudy. "She transformed a slow white guy to not-a-slow white guy, I guess," he said to laughter. "Some still say I'm slow. She gave me some six-pack, I guess."
He recognized Self, indicating: "At times I've been frustrated at KU with playing time or whatnot. I'd not play for any other coach, ever. He is the best coach, not only for what he teaches on the court. He teaches you be a man ... to face adversity, qualities important in life. I respect that man as much as anybody."
Teahan broke down and cried when speaking about his older brother/role model, Kyle, as well as his dad, Mark.
Taylor, 6-3, out of Hoboken, N.J., was the last to speak, following Self's introduction of Thomas Robinson to the fans. Taylor spoke for six minutes.
"I've had people ask me, 'Can anybody speak besides seniors?' It's not Junior Night, but before we leave out of here ... you've all been blessed to watch a kid grow up before your eyes. A kid who has a legitimate chance to be national player of the year that has sacrificed so much for the good of all of us," Self told the fans, referring to Robinson.
Robinson received a standing ovation and waved to the crowd but did not speak.
"If you want to speak," Self said to Robinson, "you could stick around another year."
Taylor wiped away tears when thanking his mom, Jeanell, for her support.
"I can't explain how much you mean to me ... I think of you all the time … being at Kansas the last three years (with her living here) and making this home, being with me with all my ups and downs. I love you."
He thanked the fans: "I've grown up here as a man. You've seen me at my worst and at my best. I appreciate you all for sticking with me," Taylor said.
Flower shower: Juenemann, Teahan and Taylor were introduced with family members amid a flower shower before the game.
The three hugged Self before walking to center court, where they received framed jerseys.
Self gave Taylor a slap to the face after the hug.
None of the players broke down emotionally or needed to wipe away tears during the ceremony.
What an anthem: Jim Cornelison of Chicago Blackhawks fame sang the national anthem. He's a former opera singer who has worked full time for the NHL team for the past four years.
"I heard there's great tradition and it gets crazy in there," Cornelison said of the fieldhouse while chatting with reporters prior to the game.
His rendition was stirring, though some students did continue their puzzling habit of singing "Home of the Chiefs" and performing the tomahawk gesture at the conclusion of the anthem.
This 'n' that: KU students chanted "One more year" at Robinson as he exited the game in the final seconds. Though Self in his postgame chat with his media said, "Thomas in his last game, played well," he later indicated there was no official word on Robinson heading to the pros after this, his junior season. "Nobody should get their hopes up, though," Self said with a smile. ... KU will next Texas A&M; or Oklahoma at 2 p.m. Thursday in a Big 12 tournament quarterfinal on Thursday at Sprint Center in Kansas City, Mo.