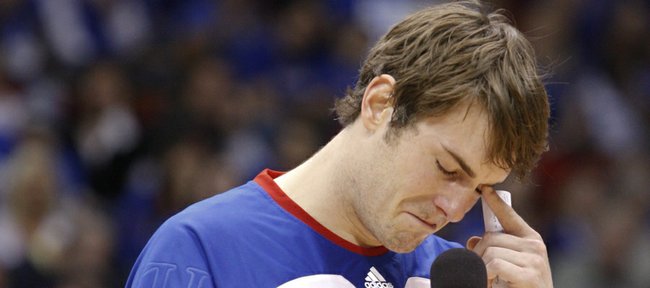 Videos
2012 KU senior speeches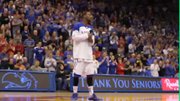 Senior speeches from Tyshawn Taylor, Conner Teahan and Jordan Juenemann following KU's 73-63 victory over Texas March 3, 2012.
Podcast episode
Kansas coach Bill Self talks to reporters following the Jayhawks' 73-63 victory over Texas on March 3, 2012.
Kansas vs. Texas
All week, those around Kansas University senior Conner Teahan had told him that once he picked up the microphone for his senior speech, he was going to start rambling.
"I didn't think that was possible," Teahan said following KU's 73-63 victory over Texas. "And next thing I know, I look at the clock ... "
Right before he started his speech, Teahan promised to those around him that his whole talk would only take seven minutes.
It ended up being about twice as long.
"You get caught up in the emotions, and you don't want to leave anybody out," Teahan said, "but then there's so many people here that have made such a big impact on my life. I didn't want to go without properly thanking them."
Teahan spent the end of his monologue thanking his family, telling his three brothers and sister how much they meant to him.
When he moved on to thank his parents — Donna and Mark — he noticed both were wiping away tears.
Teahan also broke down.
"I don't tell them how much they meant to me enough," Teahan said. "I don't know if I just expect them to think that, but they've just been the best support system that I could ever have. I was glad to be able to tell them how I felt."
KU coach Bill Self even relayed a funny story about Teahan's mother, who told him on a visit that if he didn't take care of her son, she would kill him.
Once Teahan's speech was over, Self cracked a joke of his own, saying it was important for Teahan to thank the people in his family. But it also was important for Teahan to guard the ball better for the next four weeks.
"I felt like off-ball, I was fine today," Teahan said. "I had my hands on some (passes) and everything like that. But on the ball, I got beat."
In his final home game, Teahan scored three points on 1-for-3 shooting in 24 minutes.
"I was just thinking the whole day coming into it, 'I don't care about the speech. I don't care about me scoring. I just want to win, because I don't want to go out of here on a loss,'" Teahan said. "I think us beating them and then the speech afterwards were the things that I'll remember most."