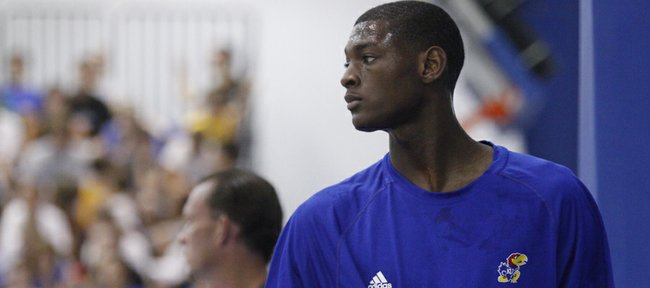 The city of Chicago has been kind to Kansas University's basketball program during the Bill Self era.
"I know Sherron (Collins) from being back home and Mario (Little) from here and some other guys (Julian Wright, Jamari Traylor)," said Milton Doyle, a 6-foot-4, 175-pound guard from Marshall High — the latest Windy City native to play for Self's Jayhawks.
He spoke to the media on Tuesday in Allen Fieldhouse on his second full day on campus.
"I'll try to follow in their footsteps and play like they do," Doyle said.
Doyle — he's never played against KU red-shirt freshman Traylor of Chicago's Julian High — initially was committed to Florida International, a team coached by Chicago native Isiah Thomas.
Doyle decommitted after Thomas' firing in April.
"Basically I was sold before I came, knowing the history of Kansas," said Doyle, who visited KU in mid-May. "Finally being here, I was able to put it together. It was a hard decision ... but it's Kansas."
Doyle, who still needs to have a couple of online courses approved by the NCAA Clearinghouse before he's free to play at KU, also had Marquette on his revised list, but never visited the Milwaukee school.
"It feels good to be here, to finally work out and be around the team, be around the guys," said Doyle, who will wear his high school jersey number — 25 — at KU. "They welcomed me in like I was already part of the team from the beginning."
KU coach Bill Self said Tuesday that Doyle, who averaged 19.0 points, 7.0 rebounds, 5.0 assists and 5.0 steals per game his senior season at Marshall, figures to play both point and shooting guard.
"I think there's a difference in being a point guard and being able to play some point," Self said. "He's a guy who definitely can play some point, no question. The way we play, whoever gets it brings it. Tyshawn (Taylor) wasn't a true point at least the way we played. Elijah (Johnson) is not a true point. We've got a lot of combo guards. He'll be one of those combo guards.
"He's a good athlete, has great length. He has to get stronger, which is natural for all freshmen. He probably has to get where his stroke is a little more consistent. We have minutes to be earned back there from a depth standpoint. He should provide us extra depth, no question."
Of his role, Doyle said: "Combo guard that can play any spot, who is able to go out there and play whatever the coach tells me to play ... a good defender, all around player."
Doyle — who once was a Duke fan, but switched allegiances to KU about the time the Jayhawks won the national title with Collins playing a major role in 2008 — has played point guard pretty much all his life. He credited his mom, Lisa, a former Mississippi Valley State player, for "putting me in the gym ... it was out of her job because she works for the park district, so I was always in the gym."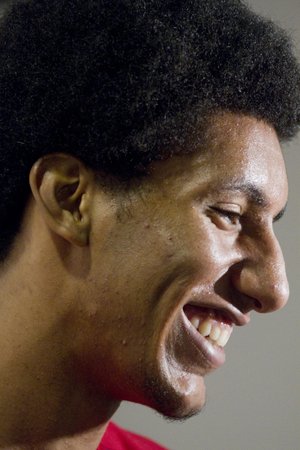 Young happy to be home: KU senior forward Kevin Young said he enjoyed competing with the likes of J.J. Barea (Minnesota, NBA), Shabazz Napier (UConn), Mike Rosario (Florida) and Renaldo Balkman (South Carolina) at the recent Puerto Rico national team tryouts.
"It was fun. I learned a lot. I think I grew a lot as a player, too," said Young, who was one of 12 players asked to play in a tournament this week in Puerto Rico, but was told he would be bumped from the Olympic team once several Puerto Rican pro players reported to camp.
"I worked on my shot, my handles a bit. Hopefully I'll show a little bit of improvement when I get back in the gym, today," Young added.
Young said he will try to make the Olympic team in 2016. "I'll go back next year for the world championships," he said. "I really didn't get an answer what I need to improve on, the reason I was cut, what I didn't do right. Hopefully I can change it next time I go down there."
KU coach Self said he heard Young played well at tryouts. "The last game he plays five minutes, gets eight points, four rebounds, is 2-2 from three which I was kind of excited to hear about. Kevin will have a good year this year because he's going to be a lot more comfortable," Self said.
Frankamp on U17 team: Future KU guard Conner Frankamp of Wichita North survived final cuts and is a member of the 12-man, USA Basketball Under-17 men's world championship team. He will compete in the 2012 FIBA U17 World Championships June 29-July 8 in Kaunas, Lithuania.