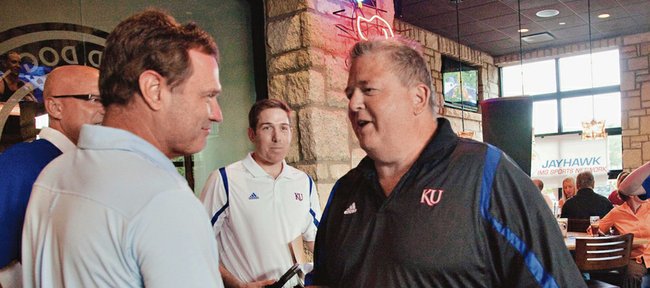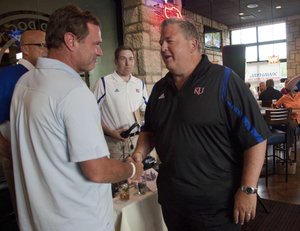 There's never a dull moment for Bill Self when he's working with Kansas University's 10 freshmen basketball players.
"This year will be stressful in a lot of ways, because as Al McGuire said, 'The best thing about freshmen is they become sophomores,'" Self, KU's 10th-year coach, said Monday night after leading his squad through its seventh of 10 pre-European tour practice sessions.
"These guys have a lot to learn," Self added. "I told them all multiple times that the freshmen that usually have the best freshman years for us are the ones that know they don't know. That is hard for a guy coming in here and saying, 'OK, I'm going to quit everything I've been taught — not that it's wrong — but I am going to try it your way.' The guys who do that are the ones who usually perform the best. These guys so far have been sponges. They've been good."
Self, who spoke with the media in the lobby of the Oread Hotel after joining KU football coach Charlie Weis as guest on the "Rock Chalk Sports Talk" statewide radio show, has an incoming class of red-shirt freshmen Ben McLemore and Jamari Traylor, true scholarship freshmen Anrio Adams, Milt Doyle, Perry Ellis, Landen Lucas, Zach Peters and Andrew White and walk-ons Evan Manning and Tyler Self.
Self has gushed about McLemore's potential in various interviews this summer. On Monday, he was asked about McDonald's All-American Ellis, a 6-foot-8, 225-pounder out of Wichita Heights.
"Perry's been impressive," Self said. "We've had other guys be impressive for short stints. I'd say Perry has been as impressive as anybody in the gym over the entire seven practices. He has a knack to score. Of course, we need that (after) losing Thomas (Robinson)."
Ellis, who is ranked 24th nationally by Rivals.com, is KU's highest-rated incoming recruit, followed by No. 51 Andrew White, 6-6, 210, out of Chester, Va.
"Andrew can shoot. We need that (after) losing Conner (Teahan)," Self said. "Andrew is going to be a good player. He's still figuring things out. He's a tall guard … 6-foot-6 guys who can shoot it … they are fun to have."
As far as the big man group that includes Ellis, 6-9 Peters and 6-10 Lucas, Self said: "Stop and think about our bodies inside. Jeff (Withey), Justin (Wesley), Kevin (Young), Jamari, Landen, Perry, Zach ... even though we are not big girth-wise, still that's seven bodies we can throw at you. It means we can foul a lot and not be penalized as much. Last year, if Thomas got two fouls in the first half, it was, 'Oh, geez, what are we going to do?' Hopefully this year we'll have a little more depth."
Speaking of the freshman group as a whole, Self noted: "Nobody's been great, but as a group they are trying hard. This is going to be a fun team to coach."
Self said senior point guard Elijah Johnson, who had arthroscopic knee surgery in April, is 100 percent healed.
"Elijah is practicing full speed," Self said. "He is out of shape, obviously. He took three months off from the surgery. He's out of shape, doesn't have his rhythm, yet we are so much better when he's out there."
The Jayhawks will leave for Switzerland on Sunday and play four games (a week from today, Wednesday, Saturday and Aug. 12) in Switzerland and Paris.
"I don't know how we'll do things once practice starts. We are three months from that," Self said. "In Europe? I'm going to play everybody about the same. I am going to have them all out there trying and playing together. I don't care that much about combinations. I don't know what we can really find out about ourselves in August as far as combinations. Some guys pick things up better than others, but I will give everybody an opportunity to play. We may have five freshmen out there playing at once, and we may not look very good, but still it'll be a good experience for them."
This, that: KU's exhibition games will not be televised and not be broadcast on the radio. ... KU football coach Weis declined to speak to the media after his stint on "Rock Chalk Sports Talk." ... KU is now recruiting Frank Mason, an unranked 5-11 senior point guard from Petersburg (Va.) High, Rivals.com reports.