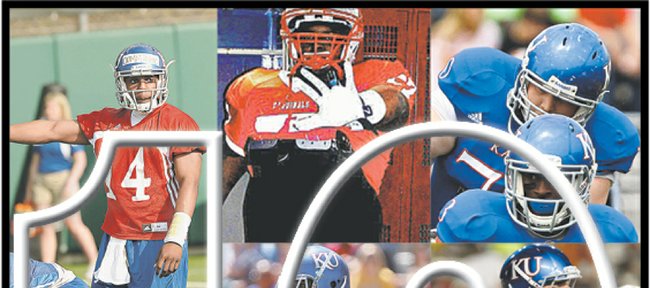 One of the most anticipated preseason camps in Kansas University football history kicks off today, when the Jayhawks report to campus for their initial team meeting and then begin fall practice Thursday.
While new head coach Charlie Weis has been pretty open and honest about the direction he plans to take the team, there still are some things that Weis has not been able to address in the offseason. Those things — and many more — will be on full display during the next few weeks as the Jayhawks fine tune their team for the Sept. 1 season opener against South Dakota State.
Here's a quick look at the top stories we'll be tracking at camp:

Back-up QB — We all know that Dayne Crist is KU's starter, and we also know that if Crist stays healthy he'll play the entire season. With keeping Crist on his feet one of the team's top priorities, it's only natural to wonder what happens if he isn't. Red-shirt freshman Michael Cummings and juco transfer Turner Baty will spend fall camp battling to be Crist's immediate back-up, with Cummings holding the advantage of having been here this spring and Baty having a four-inch height advantage. Should be a good duel.
Everyone in camp? — KU coach Charlie Weis said last week at Big 12 media days in Dallas, and again on a radio show Monday night, that the possibility remained that a couple of newcomers would not be in town for the start of fall camp. It looks as if defensive tackle Ty McKinney will be a few days late, but what about fellow-defensive tackle Jordan Tavai and offensive lineman Aslam Sterling?
Fifth offensive lineman — If Sterling reports to camp on time and in good shape, he'll likely be a starter. But he's a tackle, and even if he doesn't make it on time, the Jayhawks have another solid option there in junior Riley Spencer. The big question is at right guard, where Gavin Howard — one of the smartest players on the roster — was penciled in as the starter throughout the spring. Can Howard hold down that spot this fall?
Top tight end — The Jayhawks have five legitimate options at tight end, but none of them has produced anything substantial heading into this season. Returners Jimmay Mundine and Trent Smiley have the luxury of familiarity, but neither has done much during their first couple of seasons in town. Notre Dame transfer Mike Ragone is the most experienced of the bunch, but he made just 11 catches for 109 yards during his Irish career. Also in the mix are juco transfer Charles Brooks and true freshman Jordan Smith. Last week, KU co-captain Toben Opurum said the tight end could be KU's most productive offensive weapon this season. Tracking which player (or players) reaps the benefits will be fun to watch.
Brandon Bourbon's health — During his first couple of seasons in Lawrence, the former four-star running back from Potosi, Mo., has been plagued by injuries and has not been able to get into any kind of a rhythm. Could this be the season he finally breaks through? Equipped with the perfect blend of power and speed, Bourbon seems like the kind of back who could flourish in Weis' system.
Wide-receiver shakedown — With Crist providing stability and a huge upgrade at quarterback, a lot of the interest in KU's passing game shifts to which players the senior QB will be throwing to this fall. With 11 wide receivers listed on KU's roster, Crist has plenty of options, but, obviously, not all 11 of those guys will factor into the game plan. We know seniors D.J. Beshears, Daymond Patterson and Kale Pick will make their share of plays, but which of the eight remaining receivers will step up to join them is a tougher question to answer. Several of those guys could get a shot this fall, but those who get the first crack at it will separate themselves during the next four weeks.
Competition at kicker — Last year's starting place kicker, Alex Mueller, has left the program, and KU returns Ron Doherty, who handled both kicking and punting duties down the stretch last season. But Weis said earlier this summer that there would be multiple kickers and multiple punters in camp and that Doherty would have competition.
Smiles on the faces of Buddy Wyatt and Dave Campo — It was a rough spring for KU's defensive line coach and defensive coordinator. Why? Because they were asked to work with a handful of guys who would not even be in the two-deep depth chart when the season rolled around. But that's a thing of the past now.
How do the Jayhawks look mentally? — Although things have been tough behind the doors of the Anderson Family Football Complex, the past several months also have been a honeymoon period for the KU football program. The new coach with the big name has restored hope and brought to town several players and coaches who are hellbent on getting the program headed in the right direction again. For the most part, that has provided plenty of reason to smile, but now that the season actually has arrived, what will these guys look like at practice? Will the fun-loving smiles give way to sharp focus? Will getting it right and working their butts off replace "enjoying the college experience?"
How do the Jayhawks look physically? — Weis said recently that strength coach Scott Holsopple took before and after pictures of every player on the team this summer. I'm guessing it's quite a collection. From everything we've heard, the Jayhawks are in better shape than ever before, and several guys have added or dropped weight, toned up and ripped out. If the new look is as impressive as we've heard it is, it will stand out right away.