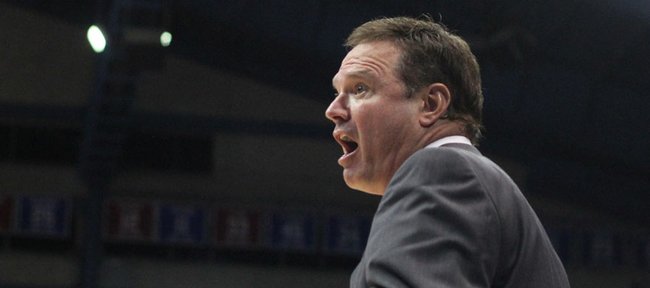 The just-completed July college basketball recruiting evaluation period wasn't as taxing on Kansas University coach Bill Self as some in the past.
"The new calendar kind of rejuvenates you. You get a chance to come home every week. It has not been bad at all," Self said.
He adjusted well to new recruiting rules that sent coaches on the road July 11-15, 18-22 and 25-29. In Julys past, coaches hit the road the first 10 days and last 10 days of the month, with a break in the middle.
Self and his aides made their usual stops at AAU tournaments in Nevada, Florida and South Carolina during parts of July.
"We're just trying to get the best players, period. We got a couple of commitments, but we need a big and a point guard to go with what we have," Self said.
He filled two of his four available 2013 scholarship slots last school year, garnering early oral commitments from Wichita North combo guard Conner Frankamp and Tift County (Forsyth, Ga.) High wing Brannen Greene.
"We're excited about what we have. If we can get another great player, that'd be a bonus," Self said. "We are trying to get the best players possible. We do need an inside presence that could obviously replace Jeff (Withey), and a point guard to replace Elijah (Johnson) would be great."
Some of the senior players the Jayhawks reportedly tracked during the summer include guards Anthony Barber (6-2, Hampton, Va.), Xavier Rathan-Mayes (6-4, 205, Toronto), Frank Mason (5-11, Petersburg, Va.), Demetrius Jackson (6-1, Mishawaka, Ind.), Rysheed Jordan (6-4, Philadelphia), Allerik Freeman (6-4, Henderson, Nev.), Isaiah Lewis (6-3, Brooklyn, N.Y.) and Detrick Mostella (6-3, Landover Hills, Md.).
Also, forwards Aaron Gordon (6-8, San Jose, Calif.); Julius Randle (6-9, Plano, Texas), Jermaine Lawrence (6-9, Sparta, N.J.), Jabari Parker (6-8, Chicago), Troy Williams (6-6, Mouth of Wilson, Va.), Jordan Mickey (6-7, Arlington, Texas), Jarell Martin (6-9, Baton Rouge, La.), Semi Ojeleye (6-6, Ottawa), Karviar Shepherd (6-10, Arlington, Texas), Marcus Lee (6-8, Antioch, Calif.), Wayne Selden (6-5, Tilton, N.H.), Tyler Roberson, 6-8, Roselle, N.J.) and Austin Nichols (6-8, Eads, Tenn).
Guard Barber, by the way, told Rivals.com on Tuesday he will visit KU, Alabama and Louisville. The country's No. 9-rated player attends Hampton (Va.) High.
The trip: KU's basketball team, which leaves for Zurich, Switzerland, on Sunday and returns to the U.S. on Aug. 14, will play four games (Aug. 7 and 8 in Fribourg, Switzerland, and Aug. 11, 12 in Paris) in nine days. That leaves a lot of time for sightseeing.
"I've never been to Switzerland. I heard it's just unbelievably gorgeous," Self said. "The way we set our schedule up, we've allowed our guys time on their own. We allowed them sightseeing as a group, and we've allowed them some team functions. We're not going to lay around in bed. We're going to make the most of the trip. I wouldn't be surprised if we go on a sightseeing tour for three or four hours right before a game even. I want our guys to experience it."
Self said all of his players will receive plenty of playing time in exhibitions versus the Swiss National Team and French pro teams.
"I think it will be a great experience for our guys," Self said. "Winning is always important, but having an opportunity to go to Switzerland and France and hang out is a memory that will last all our guys' lifetime. I am excited for them to experience that and at the same time get our basketball team a little better."
This, that: Former KU center Sasha Kaun scored 13 points and grabbed six rebounds with four blocks in Russia's 73-54 victory over China at the Olympic Games in London. Russia, 2-0, will meet Brazil on Thursday. ... ESPN has reported that former KU guard Tyshawn Taylor's two-year contract with the Brooklyn Nets is guaranteed. The second-round pick will make $473,604 this season and $788,872 in 2013-14.