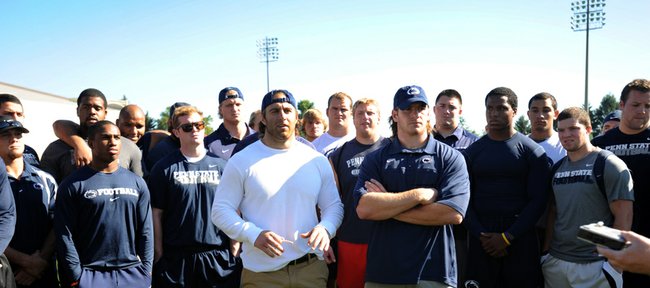 Kansas University football coach Charlie Weis on Tuesday might have been one of the only coaches to talk about the idea of adding Penn State transfers to his roster. But he was hardly the only one thinking about it.
According to an ESPN.com article by college football reporters Joe Schad and Don Van Natta Jr., a handful of unnamed Penn State players have been offered "up to 50 scholarships" by football programs across the country.
As his team tries to rally together for the start of the upcoming football season, PSU coach Bill O'Brien told ESPN.com that he would like any coaches interested in talking to his players to call him as a professional courtesy. While reaching out to O'Brien is not required, coaches like Weis have been asked to contact Penn State in some manner. To that end, the article said the Penn State athletic department had been "flooded with faxes and emails from other schools."
According to the NCAA's punishment, any Penn State players interested in transferring would be free to do so and would not have to sit out a season. They also would not count against their new school's scholarship limit. In addition, Penn State is not allowed, in any way, to restrict a player from pursuing a possible transfer.
O'Brien, who called the activity "an NFL free-agent system" in college sports, has become increasingly upset with the way things have unfolded.
"Our players are in our building right now and they don't want to leave because there are coaches from other schools in the parking lot waiting to see them," O'Brien told ESPN.com. "These kids don't want to leave Penn State. They want to play for Penn State. It is my opinion these coaches should leave them alone, but if they don't want to leave them alone, they should make sure they give me a call before they try to recruit them."
Based on his comments Tuesday, which emphasized the need for respect and compassion for Penn State's players and coaches, it's unlikely that Weis was one of those coaches in the PSU parking lot Wednesday.
However, according to Frank Bodani, of the York Daily Record, KU was one of eight schools to contact Penn State's Kyle Baublitz, a 6-foot-5, 275-pound defensive tackle who is set to enter his third season with the Nittany Lions. Baublitz's father, Steve, confirmed to Bodani that his son was contacted by Baylor, Boston College, Cincinnati, Hawaii, Houston, Kansas, Texas Tech and West Virginia. However, on his Facebook page, Baublitz said he was committed to staying at Penn State.
The idea of KU's adding a defensive tackle certainly would make sense, as Weis and defensive coordinator Dave Campo have said repeatedly that upgrading KU's D-line was a top priority. Other players that the Jayhawks might be monitoring include offensive linemen and linebackers.
Although the likelihood of any Nittany Lions leaving in the wake of the Jerry Sandusky scandal dipped Wednesday, when more than 30 PSU players held a joint news conference to announce they were staying, a couple of Penn State players said through spokespeople that they were keeping their options open. The most notable of those was sophomore running back Silas Redd, who is contemplating a move to USC.
Still, with a large chunk of the PSU squad standing united in commitment to the school, O'Brien figures to have several familiar faces in blue and white when the Nittany Lions open fall camp on Aug. 6.
"We want to let the nation know that we're proud of who we are," said senior running back Michael Zordich, who on Wednesday stood with two dozen teammates and spoke on behalf of those who were staying put. "We're the true Penn Staters, and we're going to stick together through this. We're going to see this thing through, and we're going to do everything we can for the university. We know it's not going to be easy, but we know what we're made of."