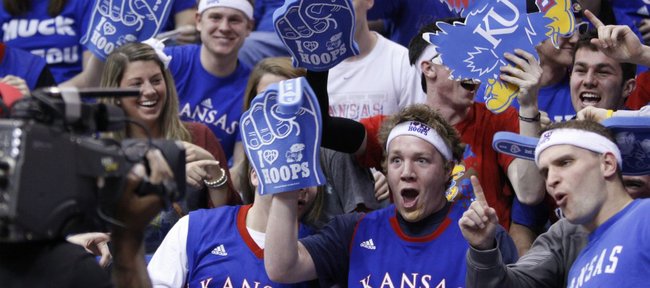 Kansas University's basketball team will play four ESPN Big Monday games during the 2012-13 season — most of any team in the Big 12 Conference — the league announced Wednesday.
The Jayhawks, who will be featured on Jan. 14 versus Baylor, Jan. 28 at West Virginia, Feb. 11 versus Kansas State and Feb. 25 at Iowa State, have been scheduled four appearances for the seventh straight season.
Baylor, Texas and West Virginia will play three Big Monday games, Kansas State two and Oklahoma, Oklahoma State and Iowa State one. TCU and Texas Tech will have no Big Monday appearances.
KU has played KSU and Iowa State four times and Baylor three times on Big Monday in the Big 12 era.
KU is 45-16 all-time on Big Monday — 25-1 at home and 20-15 on the road, with a 26-8 record under coach Bill Self. KU has won 18 straight Big Monday games in Allen Fieldhouse, with a 14-0 mark under Self.
This marks the fourth straight season KU will have had two Big Monday games at home and two away. In 2009, KU had one home and three away.
2013 Big 12 Men's Basketball Schedule on ESPN's Big Monday
Jan. 14 — Baylor at Kansas, 8 p.m.
Jan. 21 — Oklahoma State at Baylor, 4:30 p.m.; Texas at Oklahoma, 8:30 p.m.
Jan. 28 — Kansas at West Virginia, 8 p.m.
Feb. 4 — Texas at West Virginia, 8 p.m.
Feb. 11 — Kansas State at Kansas, 8 p.m.
Feb.18 — West Virginia at Kansas State, 8 p.m.
Feb. 25 — Kansas at Iowa State, 8 p.m.
March 4 — Baylor at Texas, 8 p.m.
The Big 12 is expected to release its full slate of league games in August.
Dooley lauded: Hoop Scoop has named KU's Joe Dooley the No. 1 college men's basketball assistant coach in the country. KU's Norm Roberts and Kurtis Townsend were tapped Nos. 3 and 7 respectively by the magazine, which recognized the top 100 coaches.
Self on the road: KU coach Bill Self attended Wednesday night's AAU Super Showcase showdown between Virginia Boo Williams and the Houston Defenders in Lake Buena Vista, Fla. Houston, which was led by twins Andrew and Aaron Harrison, rolled to a 73-54 victory.
Boo Williams has a pair of KU targets: Anthony Barber, a 6-2 point guard from Hampton (Va.) High, and Allerik Freeman, a 6-4 shooting guard from Findlay Prep in Henderson, Nev. Barber is ranked No. 9 and Freeman No. 39 nationally by Rivals.com.
Of Barber, ESPN's Paul Biancardi wrote: "His nickname is Cat because he is quick with the ball. Barber has outstanding end-to-end speed and is tremendous in transition, where he can take it all the way to the basket or drop off an assist. He understands how to change speeds and directions with the ball to be even more effective driving to the hoop, and the time invested to improving his shooting has paid off. He is becoming a dangerous threat in pick-and-roll action. Defensively, he can stifle opponents as he gets right up on them with his quick feet and active hands. One of the elite point guards, Barber is hot and heavy among Alabama, Kansas, Louisville, N.C. State and SMU and others."
Of Freeman, Biancardi wrote: "Freeman has excellent athleticism and a strong build, which help him draw contact and score old-fashioned three-point plays. He can make open shots out to 3-point range, but his percentage is tied to his shot selection. The more selective he is, the more effective he is. When he gets in the paint, he is a nightmare for opponents. Overall, Freeman can be a bit streaky, but he is tough to stop when he gets on a roll. His top five are Duke, Kansas, Ohio State, UCLA and Villanova."
KU is also now recruiting Boo Williams' Troy Williams, a 6-6 small forward from Oak Hill Academy in Mouth of Wilson, Va. Barber and Williams have talked about attending the same college as a package deal. Williams is ranked No. 41 nationally.
No. 2-ranked Julius Randle, a 6-9 power forward from Prestonwood Christian in Plano, Texas, is also competing at the Super Showcase for the Texas Titans.
No. 2 Class: CBSsports.com currently ranks KU's recruiting class of 2013 No. 2 nationally behind North Carolina. KU has received commitments from No. 28-ranked Conner Frankamp, 6-1 combo guard out of Wichita North, and No. 31 Brannen Greene, 6-7 small forward from Tift County High in Forsyth, Ga.