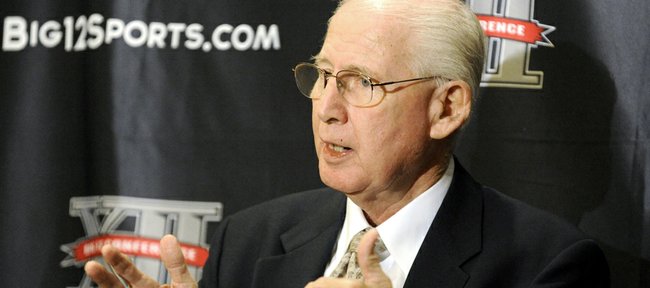 Dallas — Opinions are mixed when talking to Kansas State folks about the ways in which the absence of Missouri from the Big 12 might change the Sunflower Showdown with Kansas University.
But the man whose word always seems to carry the most weight in Manhattan believes the rivalry will grow.
"I don't think in terms of rivalries, personally," K-State coach Bill Snyder said at Monday's Big 12 media days. "And it's not just another game. I'm wise enough to understand that. But, as it relates to the fan base, I think the answer is, yes. I think that probably enhances the rivalry a great deal, particularly for (KU). I think K-State people have always seen it that way."
Although it began with a 16-0 KU victory in October of 1902 — 11 years after the Jayhawks' first game against bitter Border War rival, Missouri — the showdown between Kansas and Kansas State has remained rather cordial throughout the years.
The reasons are plentiful and certainly vary but tend to come back to the fact that, with KU and Missouri, there was true hatred that dated back to the Civil War days. With KU and K-State, the relationship was always more like battling brothers than boiling enemies.
With the Tigers now competing in the SEC and the Jayhawks vowing to keep them off the schedule for the foreseeable future, the void must be filled. As Snyder mentioned, K-State fans for years have viewed KU as their biggest rival. Now the purple people down the road in Manhattan might begin to see a little extra attention.
"It's definitely gonna grow bigger," K-State junior and Olathe North grad Tre Walker said, "first of all because we're in-state rivals. You talk to a KU player, they can't stand us. You talk to a K-State player, we can't stand them. The thing is, I love it. I love that atmosphere. I love the rivalry. I love what it means to the state of Kansas. This is gonna be big. This could very well become a Texas-Oklahoma rivalry, so that's why we get excited about it."
The Jayhawks own a 65-39-5 advantage in head-to-head meetings but have lost three straight games by a combined score of 135-38. That, too, is one of the reasons the rivalry has never really popped. In more recent years, the Sunflower Showdown has been marked by mismatched programs beating the tar out of each other instead of close games that seem to be fiery and intense no matter the records.
Though they stopped short of saying it, the Wildcats on Monday made it clear that they'd like to see the Sunflower Showdown become more of an annual highlight for both sides.
"I definitely think it already holds a little more weight than some of our other games," said junior safety Ty Zimmerman, who was the starting quarterback for the Junction City squad that topped Free State High in the 2008 Class 6A state title game. "And, with Missouri gone, there will probably be a little change in the attitude and the atmosphere. A little more hostile. But as a player, you want that. Everybody gets up for that game."
While some K-State officials said such a change might not be noticed for five or even 10 years, Walker, who grew up closer to KU's campus than K-State's, said he already had seen evidence of the tide turning.
"I think it will change overnight," Walker said. "We already have various KU fans turning the corner, saying, 'OK, Missouri's gone, so now we've gotta turn our attention to K-State.' I feel that. Most definitely."
Added senior linebacker Arthur Brown, who hails from Wichita: "Since Missouri has left, the rivalry may expand just by itself."
Does that mean it will get uglier?
"A lot of people like that," Brown added. "It brings a lot of attention. I'm not sure how it's all gonna play out, but it's definitely a possibility."