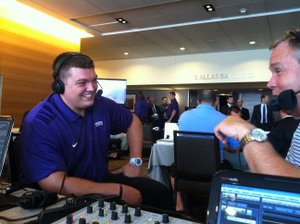 On the day before a game last year, Blaize Foltz pulled out his phone and read the text message from his father, Roger.
"You're too small to play."
By now, the TCU offensive lineman was used to these.
He'd been receiving texts just like this since his red-shirt freshman year, back when a father decided that his son needed a little extra push.
Other weeks, the message had been similar: You're not tall enough; you won't make it in big-time Div. I football.
These weren't Roger's direct words, though.
Instead, these were all the things that Roger had heard about his son while Blaize was still attending Rose Hill High — back when Kansas and Kansas State refused to offer the future all-conference player a scholarship.
"That's always been my drive and motivation," Foltz said Monday at Big 12 media days. "They always told me, because I was a Kansas boy, I would never amount to anything."
Of course, that was never something that was said directly to him.
Foltz, who was 6 foot 2, 260 pounds in high school, attended both KU and KSU football camps, but his father was the one who heard the bad news from coaches.
"We just wish Blaize was two inches taller … " some would say.
"If only he was 20 pounds heavier … " others told him.
Roger always made sure to share the criticisms with his son.
"Fuel to the fire," Blaize said.
Without offers from former KU coach Mark Mangino or former KSU coach Ron Prince, Blaize considered SMU and a few MAC schools before getting late interest from TCU.
After seeing the football culture within the Horned Frogs program — a "hard-nosed, hit-'em-in-the-mouth" attitude Blaize said he could relate to — the boy who grew up a KSU football fan with a mother who adored KU basketball gave his commitment to TCU.
"Good people and good players … I don't care where we go and get them," TCU coach Gary Patterson said. "For whatever reason, we've always been able to get a lineman/tight end-type guy out of up in that area (Kansas) that has liked TCU."
Naturally, Foltz grew two inches once he reached college and also packed on weight, now standing a 6-4, 310 pounds.
In his first year as a starter last season at right guard, he played all 13 games and was named first-team All-Mountain West.
So where would he be if KU had offered him a few years ago?
"I don't know. They didn't," Blaize said. "That's the way it happened. I'm in the best place I could be. I love TCU. I'm home."
That doesn't mean that it won't be nice to return to Kansas in two months.
TCU's first game as a member of the Big 12 conference will be Sept. 15 against KU in Lawrence.
Blaize's mother, father, stepmother and siblings plant o being there, along with a grandfather who hasn't been able to make it to any of his college games yet.
"It's going to be a long time looking forward to it," Blaize said. "It's always been deep down, just wanting to play there, wanting to play back in Kansas.
"I'm going to tell them with my play, I guess. Show them what I can do."
Blaize's brother, Brady, also is an offensive lineman who took a similar path at Rose Hill High.
Brady is now a red-shirt freshman — a 6-4, 300-pound red-shirt freshman — at TCU.
"They told him the same thing as they told me," Blaize said. "But we'll see how it goes."