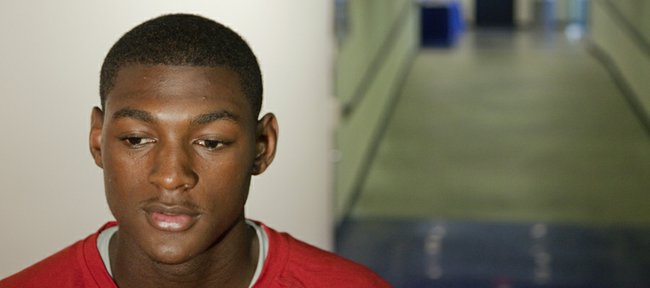 NBA Hall of Famer Isiah Thomas recommended his former Florida International commit, Milton Doyle, to Kansas University after Thomas was fired as FIU coach in April.
Doyle, a 6-foot-4, 185-pound combo guard, hails from Chicago's Marshall High. Thomas attended St. Joseph High in Westchester, Ill.
"I knew coach (Bill) Self when he was at Illinois. I always helped with a couple players there. I've also had a good relationship with members of his coaching staff," Thomas said in an interview with ESPN Chicago.
"I felt with Milton's style ... and they've had experience with Chicago kids before, and they've done well by them. I thought it would be a good fit for him. I did for Milton what I always try to do for players from Chicago.
"I've helped everyone from Chicago. I've done that since I got to the NBA," Thomas added. "He also happened to be from my neighborhood and went to the high school my brother went to."
Doyle averaged 19 points, 7.0 rebounds and 5.0 assists a game his senior year at Marshall.
"Very rarely do you see a player in high school that has so many skills in terms of stuffing the stat sheet," Thomas told ESPN Chicago. "He rebounds the ball well. He can score in a multitude of ways. He can score from the perimeter. He can score off the bounce. He can at the foul line, and he can score off rebounds. He's a guy who will always find a way to leave his mark on the game.
"For us at FIU, he would have been our first true impact player. He would have been to FIU what Johnny Dawkins was to Coach K (Duke coach Mike Krzyzewski). He would have put us on the map."
Barber update: ESPN's Dave Telep reports that SMU is trying to get involved with Anthony "Cat" Barber, a 6-2 senior point guard from Hampton High in Hampton, Va. Hampton is hometown of SMU coach Larry Brown's former star pupil, Allen Iverson.
It's long been believed Barber, the No. 9-rated player in the Class of 2013, would choose either KU or Alabama.
"SMU's a long shot," Telep wrote, "but the conversations Brown once had with Iverson are likely to be the foundation for his recruitment of Barber. It's recruiting, and that means it's about relationships, so Brown should use all the tools at his disposal. Barber needs to get ready to learn about A.I. from the guy who coached the guard to the NBA Finals."
Allerik Freeman, a 6-4 shooting guard from Findlay Prep High in Henderson, Nev., is a summer Boo Williams AAU teammate of Barber's.
Freeman, the country's No. 39-rated player, tells Zagsblog.com he has a list of KU, UCLA, Villanova, Duke and Ohio State.
"I plan on taking visits to all five as long as a position hasn't been filled yet," Freeman said.
As far as going to the same school as Barber .... "Oh, man, I would love to play with Cat," Freeman told Zagsblog. "Me and Cat play well together when we're both getting in the lane and we're both driving and dishing and we play well. If me and Cat wanted to go to Kansas together, then that would be great but I'm just trying to make decisions for myself."
There's also been talk Barber may want to go to the same school as Boo Williams teammate Troy Williams, a 6-6 small forward from Oak Hill Academy in Mouth of Wilson, Va. Williams, who is ranked No. 41, said on Twitter Saturday that KU and Indiana are the latest to show interest. Louisville and Alabama reportedly have been trying to land Williams and Barber as a package deal.
One vs. two: The No. 1 player in the Class of 2014 (Andrew Wiggins) went up against the No. 2 player in the Class of 2013 (Julius Randle) on Friday at the Peach Jam in South Carolina.
Wiggins, 6-7 from Toronto, scored 28 points and had 15 rebounds in his CIA Bounce squad's 81-80 overtime victory over Randle's Texas Titans team. Randle, 6-9 from Plano, Texas, had 15 points and 13 boards. KU coach Bill Self, Kentucky's John Calipari, Baylor's Scott Drew and many other coaches were in attendance.
"Wiggins made Randle look ordinary, as if he was just another Top 100 player," CBS Sports' Jeff Goodman said in an article on ESPN.com. "I will confess that I'm a huge Randle fan, but he was outclassed — in every manner."
KU is on Randle's long list of schools. Wiggins is considering KU, Duke, Florida State, Kentucky, North Carolina, Ohio State, Syracuse and others.
"I really don't pay attention to (rankings)," Randle told The Augusta Chronicle. "If I'm No. 1, I'm No. 1. It doesn't matter to me. I just want to be ready for the next level."
There's talk Wiggins may reclassify to the class of 2013.
For sale: A 1915 KU basketball jersey is being auctioned off online. The suggested value is $30,000, with a current high bid of $7,500. It is available at http://bit.ly/QhOzAl ... The 1998 Big 12 title ring of former KU player Kenny Gregory is on sale for $7,500 on craigslist.com. The web address is http://bit.ly/MzVnVZ