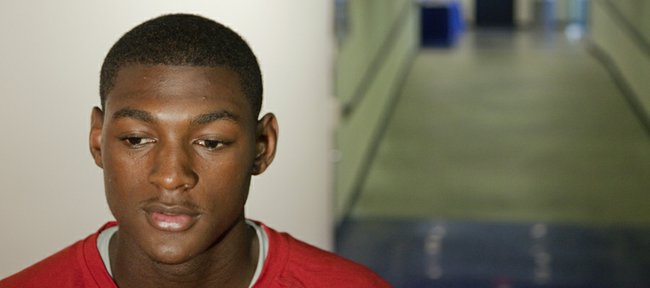 Kansas University freshman guard Milton Doyle has qualified academically to play basketball at KU this season, coach Bill Self told the Journal-World on Friday night.
The NCAA informed the 6-foot-4 guard out of Marshall High on Friday afternoon that he was fully qualified, Doyle's mom, Lisa Green, told the Chicago Tribune. The Tribune reported that the NCAA had been looking into two courses Doyle took online because of complications from his transfer from Tilden High to Marshall following his sophomore year.
"It's truly a blessing," Green told ESPN Chicago. "To come from where he was to now, it's really big. It's really big. I can't even describe it."
Doyle averaged 19 points, seven rebounds and five assists last season at Marshall. He's been at KU taking summer school classes and working out with the team.
Selby stars at summer league: Former KU basketball guard Josh Selby, who had a somewhat disappointing rookie season in the NBA, has emerged as the star of the Las Vegas summer league.
Playing for the Memphis Grizzlies — a team in which he averaged just 2.3 points a game in 28 regular-season games in 2011-12 — Selby has hit for 29.0 points a game off 60.9 percent shooting in three summer league contests.
On Friday, he followed up a 35-point outing against Washington with a 32-point explosion in a 97-79 victory over Charlotte.
Selby, who has two games left to play in Vegas, hit nine of 14 shots — including 7 of 11 threes. He also made seven free throws in as many tries.
"It's repetition, getting a lot of shots up (with) my little brother and my mom ... going in the gym every day and shooting," Selby told NBA.com. "The hard work has paid off in the summer league."
The Grizzlies, who recently lost guard O.J. Mayo to Dallas in free agency, are using the 6-2 Selby exclusively as a shooting guard after playing him at combo guard last season. He also played eight games for Reno in the NBA Developmental League, averaging 25.1 points per contest.
Memphis GM Chris Wallace, who has said he's trying to add another outside shooting threat to the rotation, told the Memphis Commercial-Appeal that Selby "is another wild card who might find his way into doing something for you (team)."
Selby believes he'll play a meaningful role.
"I'm young and I have a lot to learn. I feel like I'm showcasing my game, and I just have to try to bring it to the season next year," Baltimore native Selby said. "If there's an opportunity, I'm going to work hard and take advantage of my opportunity. I'm going to continue to work on my game and try to build chemistry with the guys and with the coaches."
More summer league: Former Jayhawk Xavier Henry scored a team-leading 12 points off 5-of-8 shooting in New Orleans' 78-65 loss to Dallas in Vegas. ... Former KU forward Markieff Morris scored 16 points off 6-of-15 shooting with six rebounds in Phoenix's 89-75 loss to the NBADL select team.
Robinson update: Former KU forward Thomas Robinson averaged 13.0 points and 9.8 rebounds a game in Sacramento's five summer league games in Vegas. He hit just 34.4 percent of his shots.
"I came into the summer league thinking I had to prove to everybody I was worthy of the fifth pick (in 2012 Draft) and I have to play up to a name when I don't have to prove myself to anybody," Robinson told the Sacramento Bee. "I came here trying to prove I was an offensive player, but really my niche is rebounding, and I did that today (16 rebounds in final game vs. Boston) and the offense came (15 points)."
Robinson said he would return to the gym to work on finishing inside plays.
"They're not calling (fouls) for me, and I'm not going to get nothing out here," Robinson said of the officials. "I'm a rookie. Until then, I'm going to have to play through the whistle."
He said he hoped former KU power forward Darnell Jackson would be invited to Kings' veteran camp. Jackson had 20 rebounds and 15 points in five summer league games. He played in Ukraine last year.
"Darnell helped me so much here, helped me keep my head when I was down on myself playing bad," Robinson said. "He kept me in it. I would love if he could come back."
Recruiting: Aaron Gordon, a 6-7 senior forward from Archbishop Mitty in San Jose, Calif., tells Rivals.com he has a list of KU, Kentucky, Arizona, Stanford, Oregon and Washington. He's ranked No. 5 nationally by Rivals.com ... Julius Randle, a 6-9, 240-pound power forward from Prestonwood Christian Academy in Plano, Texas, scored 34 points and grabbed 16 rebounds in one of the Texas Titans' games at Peach Jam in North Augusta, S.C. Randle, the No. 2 rated player in the Class of 2013, tells Rivals.com he has a list of KU, Kentucky, Duke, Texas, North Carolina, N.C. State, Baylor, Ohio State and Missouri.