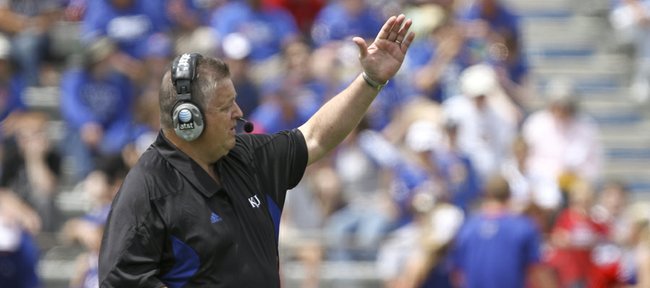 By now, we all know that Kansas University athletic director Sheahon Zenger is a big fan of new football coach Charlie Weis.
But it turns out Zenger's admiration for Weis is far from a one-sided deal.
Speaking with a small group of reporters late last month, Weis, for the first time publicly, shared his thoughts about the decision to fire former KU coach Turner Gill, a move that paved the way for Zenger to hire Weis as the 37th head football coach in KU history.
"Let me tell you something," Weis said. "Let's give Zenger a little credit here. Forget that I have the job; it's a (bold) move to get rid of a head coach that quick now. That's not an easy thing to do. (Gill) had been here for two years."
Weis continued: "Now, based off of the evidence, I'm just talking about from afar, he had every right to do it. But you're not into paying people millions of dollars for leaving after that short a period of time. That's not really what you want to do. So when the guy went out to go hire somebody, philosophically, he had to be able to agree with whoever he hired and what they stood for. And we had a very good mesh, philosophically."
Zenger pulled the plug on the Lew Perkins hire after watching the Jayhawks suffer through two of the worst seasons in school history during Gill's time in town. During each season, the program not only registered new lows for KU but also delivered statistics, results and records that were among the worst in college football history.
Many believed Zenger was stuck with Gill because of the commitment — both in dollar figures and years — outlined in his contract. But the former football coach who still was settling into his administrative office at KU chose to make the tough decision. That led to Zenger's decision to hire Weis, a man who, in nearly every way, shares the same set of values and standards as his boss.
"A lot of me taking this job was his exchange with me about who he was and what he was looking for," Weis said. "(It was) an exchange of who we are and our philosophies to see whether they fit or not."
Lights, camera, action
While most of the offseason has been about running stairs, lifting weights and crossing off the days on the calendar until football season arrives, Wednesday provided the members of this year's squad the first real taste that the season is nearing.
Decked out in full uniform, but placed in front of a green screen instead of an opponent, the Jayhawks ran through their annual video shoot for the images shown on the video board at Memorial Stadium.
Although the complete results will not be known or seen until the season opener — Sept. 1 vs. South Dakota State at Memorial Stadium — much of the feedback indicated Wednesday's show included everything from humble smiles to intense stares and full-fledged cheesing.
The Jayhawks are scheduled to report to preseason camp Aug. 1 and will begin practices the following day.
Speaking of reporting, there has been some concern among the fan base about the newcomers who have not made it to town yet. While the few who have not made it have remained away for a variety of reasons, Weis hardly seems worried about their status.
"By August 1, when we report, everyone will be set and ready to go," he said.