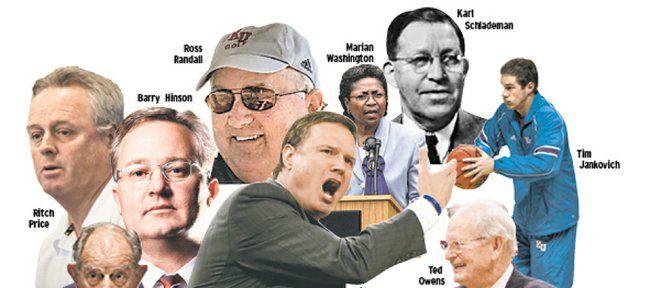 There are plenty of reasons for those playing sports to have a favorite coach.
But when you're covering them, it's a whole different ballgame. In our business, favorite coaches aren't necessarily the ones who do the most for you or push you beyond your limits.
Instead, they're the ones who seem genuinely to enjoy the interactions they have. They're the ones who make us laugh, tell the best stories and give the best answers. They're the ones who are honest, even during the tough times, and the ones you root for even though you're not supposed to be rooting at all.
That's the topic of our third installment of a summer series designed to give you a deeper look at the KU players and coaches we've covered throughout the years. Instead of an imaginary meal or a fantasy game of H-O-R-S-E, we're giving you something real this week. We've all been around KU for a varying degree of years, and it's interesting to see some of the overlap on the lists of our four favorite coaches.
Here goes:
Matt Tait
Barry Hinson — One of the nicest people I've ever met and an underrated basketball coach. He'll do a great job at Southern Illinois, and I'll definitely be rooting for him.
Ritch Price — Whether he actually is or just hides it well, KU's baseball coach has been in a great mood every time I've been around him. I've got nothing but respect for how passionate he is about the game and how professional he is about us.
Bill Self — When I was still covering high schools for the Journal-World, coach Self and I were walking into Allen Fieldhouse at the same time one day, and I held the door for him. Naturally, he thanked me but he did so by using my name. At that point, we had never met. The guy is a machine and one of the best college basketball coaches of all-time.
Roy Williams — A heck of a coach and the father of one of my high school buddies. I'll never forget the nights coach Williams threw batting practice for our home-run-derby marathons during the summer.
Andrew Hartsock
Karl Schlademan — Bill Self has a pretty decent record as KU men's basketball coach, but Karl "The Trivia Question" Schlademan's is better. He never lost a game as head KU men's basketball coach.
Glen Mason — Mark Mangino won more games, but I'm not sure Mase didn't do more with less. Plus, once you got past Mason's gruff exterior, you learned there was an even gruffer interior.
Dave Bingham — A quintessential "baseball guy," Bingham somehow coached KU into the 1993 College World Series and won 249 games in eight seasons.
Marian Washington — Washington won 560 games (with a .607 win percentage) over 31 seasons. More importantly, she's just about the classiest coach at any level I've ever met.
Tom Keegan
Ross Randall — His use of dry, cutting humor gets golf teaching points across superbly. Plus, he's an example that tearing the cover off the golf ball is not a prerequisite to breaking par. It's not how far you hit a golf ball that counts, rather how precisely. In his case, very precisely.
Andrea Hudy — Doesn't make the list because she's so good at her job, which she is, but because she's so nice. In a world of do unto others before they do unto you, that quality still ought to count for something.
Jerry Waugh — Former assistant men's basketball coach and women's golf coach dispenses pearls of wisdom taught him by Phog Allen. He's also a great listener, which is why he so often finds himself surrounded by compulsive talkers.
Marty Pattin — Former KU baseball coach and major-league pitcher brings an endless stream of baseball stories, a flawless Donald Duck impersonation and a burning desire to find a way to ride the time tunnel back to his playing days so that he could back a hitter off the plate just one more time.
Jesse Newell
Tim Jankovich — He took the time to break down my KU intramural team film a few years ago before walk-on tryouts ... and somehow he kept from laughing the whole time.
Ritch Price — He wins reporters over by calling them nicknames like "Bud," but he's also a good quote and a friendly personality.
Bill Self — From a media standpoint, he's the best I've been around as far as high-profile coaches go; he's a great quote and always seems to make time if a reporter needs an extra quote.
Barry Hinson — He has a way about him that makes everyone feel like he's the most important person in the room; he'll be well liked at SIU.
Gary Bedore
Bill Self — Everybody likes Bill; so great to deal with.
Roy Williams — Got tougher to deal with as time went on, but a good man, a nice man and a good quote, just like Bill.
Ted Owens — What a great person, what a gentleman.
Bob Timmons — See Ted Owens explanation. Timmie is one great person. There are many honorable-mention choices.