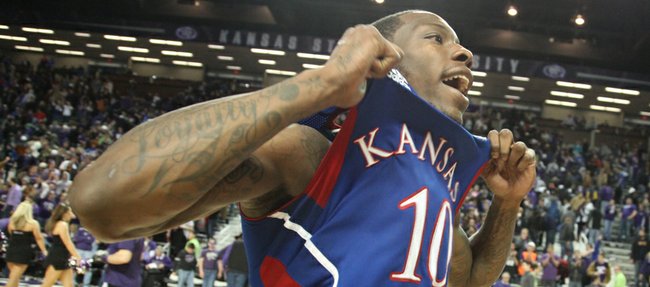 Podcast episode
Kansas coach Bill Self talks to reporters following the Jayhawks' 59-53 victory over Kansas State on Feb. 13, 2012.
Podcast episode
Kansas State coach Frank Martin talks to reporters following the Wildcats' 59-53 loss to Kansas on Feb. 13, 2012.
KU vs. Kansas State
Manhattan — Tyshawn Taylor stared into the boisterous Kansas State student section late Monday night in Bramlage Coliseum, pulling out his jersey and the word "Kansas" in the direction of those who tried to make his life oh-so-miserable the previous two hours.
"They had their time to talk to me while I was warming up and during the game, so I figured I had my time to talk to them a little bit after the game. After we get a win, it's my time to talk a little bit," Taylor, Kansas University's senior guard, said with a smile — after collecting 20 points and five assists against three turnovers in 37 minutes of the Jayhawks' 59-53 victory over the Wildcats.
He hit a pair of crucial threes to open an 11-0 run that erased a 37-36 second-half deficit with 11:49 left and gave the Jayhawks the lead for good.
Taylor — who missed the front end of a pair of 1-on-1 free-throw situations in the final 1:03 as KSU cut KU's lead to 55-51 before Thomas Robinson cashed two big charities at :21.3 — was "terrific," coach Bill Self said after his Jayhawks improved to 21-5 overall and 11-2 in the Big 12. KSU dropped to 17-8, 6-7.
"Tyshawn has been unbelievable in conference play, arguably as good a player in the league," Self said. "The guy played 37 minutes. His body is dead tired. He told me yesterday, 'I'm as tired as I have ever been,' and we play him 37. Unfortunately, he didn't finish the game. Free throws. He'll work on that. I'd rather have a guy hit threes than free throws. It's more points."
Taylor said there were no excuses for missing free throws in crunch time, as he did in a 74-71 loss on Feb. 4 at Missouri.
"I just (stink) at free throws right now," Taylor said. "I don't know what it is. I've got to get back in the lab and work on them."
Taylor, who dislocated a finger in the second half and had it popped right back in, hit a three just before the shot clock expired after chasing down a deflected pass into the backcourt.
That three gave KU a 39-37 lead.
"It's one of the biggest ones (shots of his career)," Taylor said. "We didn't have anything going at the time. Then I was able to hit another one right after that, and we had a lead."
His second three, which came right after he had a shot rejected, gave KU a 42-37 advantage at 10:10.
Taylor ripped home a baseline slam dunk with 4:49 left, giving KU a 49-39 lead. It was similar to the baseline jam he had at Missouri that proved to be KU's final points of that 74-71 loss in Columbia, in which KU blew an eight-point lead down the stretch.
"It crossed my mind a few times," Taylor said of KU seeing an opponent cut into a late lead. "Two minutes left, they hit a shot, I thought, 'Here we go.'"
But Robinson's two free throws at :21.3 gave KU the breathing room it needed at 57-51, though Rodney McGruder (he and Will Spradling were chased by KU's triangle-and-two defense the second half) cut it to four by hitting a deep two-pointer at 8.1 seconds. Conner Teahan cashed two free throws at 6.8 to conclude the scoring.
Robinson had 10 points and Teahan two on a night Jeff Withey went for 18 with 11 rebounds and nine blocks.
"It's always good to win here," said Taylor, who lost once in Manhattan — last year — during his four-year KU career.
For Taylor, it was sweet redemption to leave the arena with a sign that his sister, Tatianya, found in the KSU student section.
"Hey Tyshawn, Pass Me the Ball," the sign read.
"She's been running around looking for signs," Tyshawn said with a smile. "I think she'll keep that one."
KU will meet Texas Tech at 7 p.m. Saturday in Allen Fieldhouse.