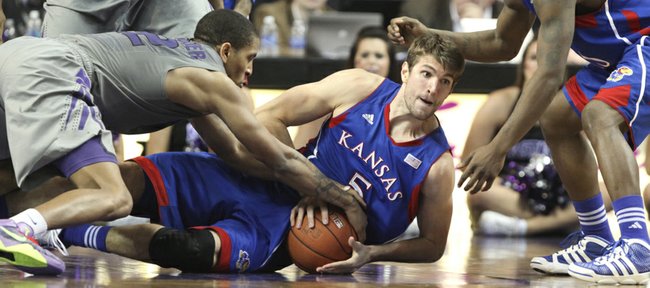 Podcast episode
Kansas coach Bill Self talks to reporters following the Jayhawks' 59-53 victory over Kansas State on Feb. 13, 2012.
Podcast episode
Kansas State coach Frank Martin talks to reporters following the Wildcats' 59-53 loss to Kansas on Feb. 13, 2012.
KU vs. Kansas State
Manhattan — You play basketball for Bill Self and you don't compete hard, he'll repay you with interest. And he'll keep repaying you until you get tired of going through more than any physical opponent can put you through. And then you'll start competing. You might even transform from a lamb in retreat to a charging bull.
That's how Jeff Withey responded to the punitive Self, a football coach who dresses, smiles and sees the court like a basketball coach.
Withey went scoreless in the fall-from-ahead loss at Missouri. Since that game, he has averaged 20.3 points, 12 rebounds and 6.3 blocked shots, stringing together three dominant performances.
Thomas Robinson battled foul trouble Monday night in Bramlage Coliseum against a physical Kansas State team scrapping to relieve some NCAA Tournament bubble pressure. Players from both sides were getting smacked in the face, seeing stars and forming scars.
Withey kept plowing forward, doing what his team needed him to do. By night's end, he fell one blocked shot short of a triple-double, totaling 18 points, 11 rebounds and nine blocks in KU's 59-53, blue-collar, black-and-blue body, victory against the Wildcats. That effort came hours after Withey was named Big 12 Player of the Week.
Withey opened a window into a recent punishment he endured in practice.
"Right before we went to Waco, I think I didn't get a rebound," Withey said. "He said, 'Go touch every stair in the building.' So I started running. Ever since then … I know coach and my teammates depend on me to play great. I picked it up. I don't want to be running bleachers anymore. The Missouri game, I don't want anything like that to ever happen again."
Withey reached the conclusion that running into harm's way in a game with teammates surrounding him beats running stairs by himself, getting humiliated in front of the guys whose approval he most desires.
"I'm serious, less than a week ago he's touching every stair in the building because he would not try to go after the ball," Self said. "Players are in his face going after him. All the sudden, you make a couple of baskets and get confidence. He's been great."
Self wasn't the only coach marveling at Withey's sudden emergence.
"As a coach, I root for guys to get better," Kansas State coach Frank Martin said. "Obviously, when we're playing against him, you're not rooting for him. But as a fan of the game, as a guy who tries to teach kids the game, when you see a guy play with the confidence that young man is playing with, to make that improvement … That was a guy who couldn't get in a game last year. Bill used to try to play him. He couldn't. He would put him in the game, and he'd have to take him out."
And now?
"Now he's dominating the game," Martin said. "He's not just playing. He's dominating Big 12 games. I don't think there's a big kid in the country that does what he does for his team right now."
Aside from senior Jamar Samuels (20 points), K-State couldn't shoot straight, but the Wildcats competed hard, defended ruggedly, brought everything it had. Withey didn't retreat once.
"He played really good against Baylor, and he played really good against Okie State, but he was a lot better tonight," Self said. "This was a big-boy game, and he had 18, 11 and nine on a night Thomas wasn't Thomas. I thought he was just fabulous."
The players tough enough to handle the coach's high standards tend to get a lot better playing for Self and his staff, as evidenced by Robinson's huge junior season and Tyshawn Taylor's exceptional Big 12 play that Self referenced when asked about Withey. But as far as going from zero to 61 in three games spanning six days, Withey's pedal-to-the-metal sprint to prominence blows the mind.
"For somebody who has kind of come out of left field, I don't know if I can remember anybody be as dominant, to go from scoreless to now: How do you win without him?" Self said. "Such a bonus for us because Thomas trusts him, and those two should get better playing with each other as (Withey) continues to produce and take pressure off of (Robinson)."
Withey's not done developing. Once he starts taking and making the open 15-footers — Self twice has selected him to shoot technical free throws, including in the second half Monday — he'll become even tougher to guard on a team that already has Robinson and Taylor giving defenses fits.
This KU team is so much better than anybody could have guessed, and Withey and the guy who drove him to be tougher than anybody could have guessed deserve a great deal of the credit.