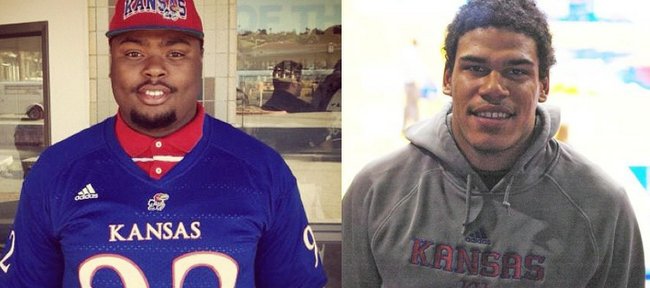 For a college football team not playing in a bowl game, the Kansas University football program sure generated a lot of December hype on Wednesday.
Led by Pierce Community College defensive tackle Marquel Combs, the No. 1 rated junior-college player in the country according to ESPN, and City College of San Francisco defensive end Chris Martin, nine future Jayhawks signed and faxed their letters of intent to Lawrence on Wednesday.
Combs, the leader of his recruiting class' self-dubbed "Dream Team 2013" movement, signed mid-morning and faxed his letter to KU after a ceremony at Pierce with friends and teammates.
For the 6-foot-3, 310-pound Combs, signing on the dotted line wasn't just a formality at the end of a long recruitment.
"Other than the day I was born, this was the biggest day of my life," Combs said a few minutes after signing. "I got to sign with a few of my teammates that I've been doing this with for a long time, and I was just like, 'I made it.' It's a dream come true, going to play Div. I football, and I get the opportunity to do it."
Later in the day, KU's class gained another defensive standout when Martin, a former Notre Dame commitment who played at Florida during the spring of 2011, made his commitment official.
Martin, 6-4, 260, orally committed to KU last Saturday and said Wednesday that making up his mind took very little encouragement from KU coach Charlie Weis.
"It wasn't too much recruiting, honestly," Martin said. "He knew that I would take it at any jump, and that it was just a matter of coming out and seeing Kansas and putting some validity behind what they were preaching to me in California."
Since arriving at Florida, Martin has played for three schools — two junior colleges — and bounced around because of some negativity surrounding his commitment. But the player who described himself as "an intelligent but nasty football player," said he was looking forward to setting the record straight at KU under Weis.
"We talked about some old stuff that we both have a chip on our shoulders because of," Martin said. "We both feel the same way. He doesn't want to have a repeat of everything that happened before. We want to win."
As for his own personal goals at KU, Martin said he hoped to show people that he can be a positive and productive part of any team.
"I want to prove everyone wrong," he said. "That I can show solidarity in a program, that I can buy into a program and I can be successful within that program. Those three things loom around as baggage for me and I'd like to change that."
Combs and Martin were the headliners of Wednesday's signees, but far from the only players with potential to make an impact in 2013.
In all, the Jayhawks added six defensive players, two offensive linemen and one punter/kickoff specialist, all of whom will arrive in time for the start of the spring semester and be eligible for spring football in March.
"For a 1-11 football team to be fighting in the top half of the Big 12 in recruiting at this stage is very impressive," Mike Farrell, a national recruiting analyst for Rivals.com, told JayhawkSlant.com's Jon Kirby while pointing to KU's fifth-place spot in the site's latest Class of 2013 Big 12 rankings. "And the schools Charlie Weis has beaten, teams like Kansas State, Nebraska, Ole Miss, Mississippi State, Tennessee and others, shows how well he can recruit. Many of these junior-college players will have an instant impact, and I think they will make the team more competitive next season and possibly help a bowl push the year after."
That's the goal, according to both Combs and Martin, who have not been shy about setting the bar high for their class and the 2013 team.
"We're all saying it's a bowl game next year," Martin said. "It's just which one are we gonna be in. And all our hype's on 'BCS or bigger.' That's just how it has to be, and if you're not thinking that then you're not thinking in the right direction for any program."
Combs and Martin were not the only defensive linemen to sign with the Jayhawks on Wednesday. Tedarian Johnson (6-3, 260, Hinds C.C.) and the familiar Ty McKinney (6-3, 310, Trinity Valley C.C.) also made their commitments official, joining defensive backs Dexter McDonald (6-1, 205, Butler) and Cassius Sendish (6-2, 185, Arizona Western) as well as offensive linemen Ngalu Fusimalohi (6-3, 300, City College of San Francisco) and Mike Smithburg (6-3, 300, Iowa Western). Punter and kickoff specialist, Trevor Pardula (6-5, 210, De Anza College) also sent his letter of intent to Lawrence and, summed it up well for the entire class after the fax went through.
"It felt great just to finally have it be official," Pardula said. "I feel like the coaches are putting together a great group of guys. And just like so many of the other guys who have signed today, I just can't wait to get to work."
The players were far from the only ones overjoyed by the haul. Weis, who will hold a news conference today to answer questions about his newest players, let his excitement leak out on Twitter.
"Time to take a breath," Weis wrote. "I'm a happy man! All midyear NLI's signed, sealed, and delivered!"
Added defensive coordinator Dave Campo, rarely one to overhype things: "Jayhawk Nation, our time is coming!"