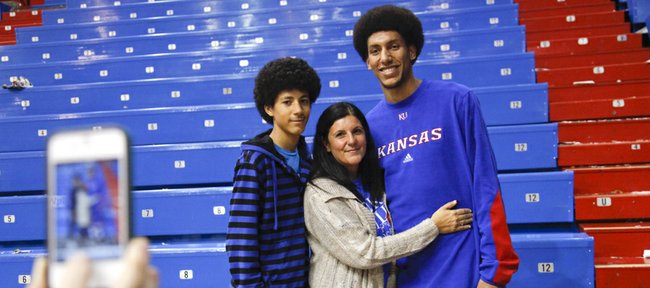 Kevin Young's energy and hustle, ability to push the basketball and score around the rim, have made him a fan favorite in this, his senior year, at Kansas University.
One other thing, too ...
"The fans just love his afro," said one of Young's biggest supporters — younger brother, Donovan, who, along with the siblings' mom, Alicia, watched Kevin score eight points and grab nine rebounds in KU's 87-59 rout of Richmond on Tuesday night in Allen Fieldhouse.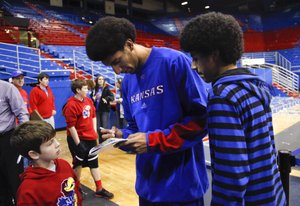 Donovan and mom have been in town since Saturday — they saw Kevin score eight points and grab six boards in a 89-60 battering of Belmont — and will remain indefinitely. They've decided to move from Perris, Calif., to Lawrence for second semester of Kevin's final KU campaign.
"He loves KU. He loves all of his fans who love him here at KU," added Donovan, 15, who will attend Free State High School as a freshman after starting out at Kevin's alma mater, Perris High.
It was easy to spot Donovan Young outside the northwest tunnel, just past a pack of autograph seekers who sought signatures a full hour after Tuesday's rout. The length and width of Donovan's afro rival his big brother's.
"For him, it's more competition. He tries to get his bigger than mine," Kevin Young said of afro expansion.
"We've done this before, when I was at Loyola (Marymount, 2008-09, 09-10 seasons). I had an afro and he tried to grow one, too. I think we do it (compete) every time one of us decides to grow our hair out," Kevin added.
Donovan Young, who hopes to play both baseball and basketball during his time in Lawrence, doesn't admit to any family competition.
"Actually when I was little, I wore my hair (like this). We'd cut it once in a while. I'd let it grow sometimes. When it's hot outside, I cut it," Donovan said.
Of his brother's hair, he commented: "It's pretty big, pretty big."
Kevin is pleased his mom and brother have joined him in Lawrence. Sister Jasmine, is a sophomore basketball player at San Bernardino (Calif.) Valley College.
"It takes a lot of pressure off me. They are a lot closer to me right now; I just love it," Kevin Young said. "It's for them to be closer to me, get them out of California and getting the focus on school a little more (for Donovan).
"It's good so far. I haven't heard my mom in the crowd yet. I'm pretty sure she is going to start yelling sooner or later," Kevin added, smiling.
Of the move, mom Alicia Morales said: "We are here to watch him play and support him. I'm so proud of my son. He is really a good role model for the young one (Donovan). The fans are awesome here. The people are awesome in Lawrence," Alicia added.
Kevin plans on spending as much time as possible with his family members.
"When I was at Loyola, they were at every game. My mom's been at every game since I was in middle school," Kevin said.
Of his brother's sports future, Kevin said: "He's more a baseball player. He's played all the positions. I think he likes outfield a lot, being able to make those diving catches and save the games, I guess.
"If it (basketball) is something he wants to do, I'll support him all the way."
KU, which is ranked No. 9 in the country, will next meet No. 7 Ohio State, at 3 p.m., Central time, Saturday, in Columbus, Ohio. The Jayhawks went 2-0 versus OSU last season. Young had 14 points and four rebounds in KU's 78-67 victory on Dec. 10, 2011, in Allen Fieldhouse. OSU's Jared Sullinger missed the game because of injury. KU won again, 64-62, in a Final Four semifinal on March 31, in New Orleans. Sullinger, who is now in the NBA, scored 13 points off 5-of-19 shooting in that game. Thomas Robinson had 19 points, Travis Releford 15 and Elijah Johnson 13 for KU.
Johnson down to three: Dakari Johnson, a 6-11 senior center from Montverde (Fla.) Academy, has narrowed his college choices to Kentucky, Syracuse and Georgetown, Rivals.com reports. Johnson, who is ranked No. 13 in the Class of 2013, eliminated KU, Florida, Ohio State and Missouri.