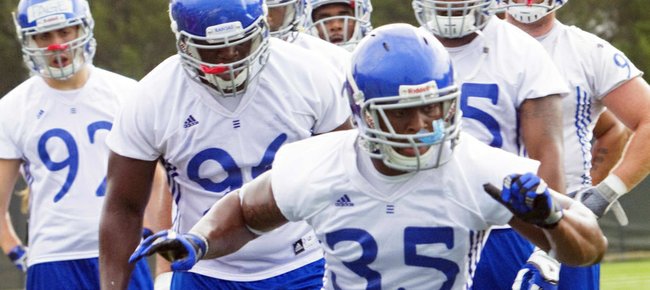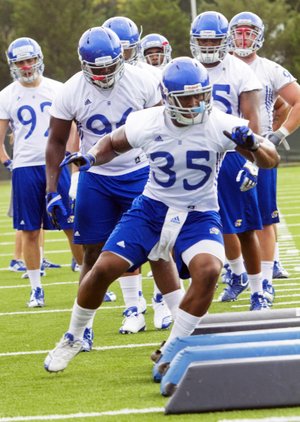 From promising running back to adaptable defensive end and several stops in between, Kansas University senior Toben Opurum has done plenty during his first three years in a KU uniform.
But as the co-captain prepares for his final season with the Jayhawks, the one thing many fans are dying to know is exactly what position Opurum will play.
"That's a good question," Opurum said.
Fortunately, there's an answer, and KU coach Charlie Weis and defensive coordinator Dave Campo believe Opurum's versatility will make the Jayhawks a better football team this fall.
"You have a strong-side end and a weak-side end, and Toben is a rush end (weak-side)," Weis said. "But if you teams try to mismatch you and get bigger on you, then Toben would slide out to (Sam) linebacker, and we'd put another defensive end on the field so you didn't have a position where a 245-pound guy was your defensive end and 300-pound tackles were blocking him, and they're running at you on every play. ... If you're small, that's what teams could do. They'd just line up and bring up the big boys and just pound away. So you need to have a plan in place in case they decide to do that."
That plan, though not necessarily centered around Opurum, would not be easy to execute if not for Opurum's intelligence, Campo said. While some teams are forced to shuffle new personnel on and off the field to adjust to changing offenses, the Jayhawks at times will simply be able to ask Opurum to step up or drop back on the fly.
"More than my mind, I have to change my mind-set," Opurum said. "It has to change a lot because, playing defensive end, my first step is forward. But when you're playing linebacker, your first step depends on what everybody else does. So it's a different mind-set."
Campo believes Opurum's mind is as important as his 6-foot-1, 250-pound frame.
"He's a smart guy," Campo said. "And I think with the confidence level of the team picking him as captain, I think that helps. So you've got a lot of things that are positive. I'm more impressed with him now, after seeing what he did in the offseason, than I was even before. And I think he's just gonna go forward."
Opurum admitted that moving forward had not always been easy for him at KU.
"It's tough," he said. "You get to the point where you're finally comfortable doing this, and then they say they want to see how you look doing this. It gets a bit frustrating at times, but once you finally learn it, you're glad you did it, and you realize you can help your team the best because they have different positions they can put you in."
When Opurum arrived at KU, he was a running back in mind, body and spirit. Today, after undergoing a couple of physical transformations and multiple position changes, the native Texan said he's much more concerned with winning than worrying about what position fits him best.
"At this point, I don't even know any more," he said. "If they ask me to go do something, I go do it, whether it's running back, linebacker, defensive end, left tackle on punt."
Opurum has played all of those positions during his first three years as a Jayhawk, with injuries and opportunities popping up with regularity.
While his performance at each spot has made him one of the best-known names on the KU roster, Opurum said he hoped his final season would make him remembered.
"It's definitely been a different experience than I was expecting to have," he said. "At this point, I figured I would still be on the offensive side of the ball, getting ready to enter the draft as a running back. Obviously, after I hurt my leg it just changed everything around. But I'm a firm believer that everything happens for a reason, and this has happened to me because something special is supposed to happen to me my senior year."