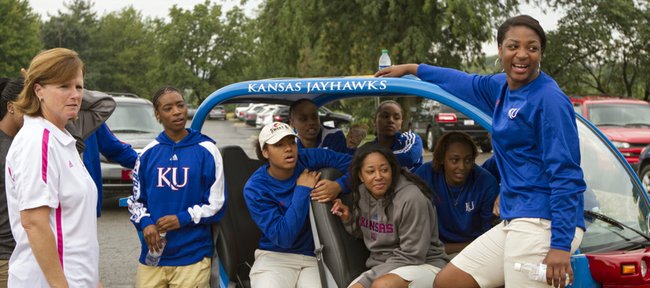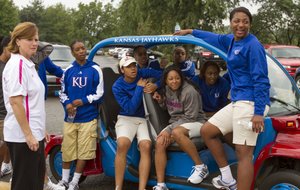 Kansas University senior basketball forward Carolyn Davis has entered the final stages of rehab from ACL surgery on her left knee.
"It's great. I'm about a month away from being fully released," the 6-foot-3 Houston native reported Saturday from the eighth-annual Bonnie Henrickson Golf Tournament at Alvamar.
"I hope I can get in the gym soon and get some individuals (workouts) in, get in the flow of things and be ready for the season."
Davis had surgery in February after suffering a dislocated left knee and torn ACL during the opening minutes of a loss at Kansas State. A first-team All-Big 12 performer both her sophomore season and again last season, Davis had averaged 17.5 points a game at the time of the injury.
"We have weights with the team. I lift and do all that and some conditioning. I get in the gym with our trainer, and I do sprints and work on that, work on basic basketball things I haven't done in a while," Davis said.
"I've followed my rehab procedures perfectly. I've done everything I can to get back to where I'm supposed to be," added Davis, who hopes to be cleared to compete in her final Late Night in the Phog, set for Oct. 12 in Allen Fieldhouse.
"It'll be a process. I won't be 100 percent at the beginning of the season. Hopefully at the end I'll be there."
Davis said she has conferred with teammates Angel Goodrich and Tania Jackson, who have successfully battled back from ACL surgery, as well as WNBA player and former Jayhawk Danielle McCray.
"Of course there are doubts when you have an injury like this," Davis said. "Now that I see where I am and how much progress I've made and also see how Danielle has come along ... the fact I have a whole year to get it right gives me a lot of confidence."
KU coach Henrickson, who welcomed more than 200 golfers to her tourney, which supports the Lawrence Memorial Hospital Breast Center, said she's confident Davis will have a great pro career.
"Absolutely, her and Angel both. There's no doubt in my mind ... and the conversations I've had with coaches in the league (WNBA), those two are high prospects," Henrickson said.
She said there's absolutely no rush to get Davis back on the court.
"I think it's probably unfair to her to give her a date," Henrickson said. "Speaking with Doc (Jeff) Randall and talking with him initially is communicating (she'll be ready) somewhere around Late Night. If she's ready before that, that will be his call and the trainer's call. If she's not ready, the same thing, it'll be the trainer's call and the doc's call. When she is released, it is when the docs say it's fine for her to go."
Davis said she's confident the team will build on last season's run to the Sweet 16 of the NCAA Tournament.
"I think the sky is the limit for us," Davis said.
Tourney notes: KU's men's basketball assistant coaches Norm Roberts and Kurtis Townsend played in the scramble tournament. ... Henrickson on first-year assistant coach Terry Nooner, who played for the KU men's team: "He's great. He has great energy, wants so much for us to be successful and be such a big part of it."
Tyshawn to sign: Former KU guard Tyshawn Taylor of the Brooklyn Nets will sign autographs from 4 p.m. to 6 p.m. Monday at Dillons, 1740 Massachusetts.