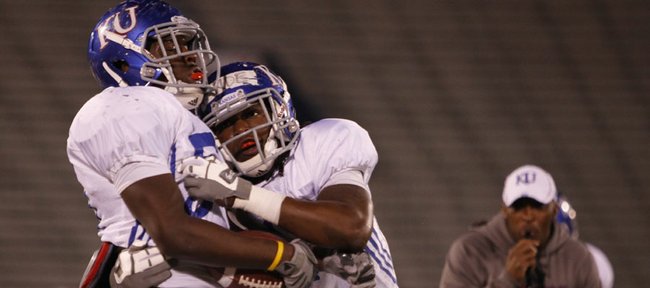 Camp life is over for the Kansas University football team, no more cramped quarters, uncomfortable beds or snoring roommates for the Jayhawks.
Instead, the focus shifts — under much more cozy living conditions — to the upcoming season, South Dakota State on Sept. 1 and, well, proving the doubters wrong.
That last part has driven these guys for the past several months, and whether you're talking about the head coach who is trying to redeem himself, the quarterback looking for one more chance to prove he can play or any number of returning players who want to make it clear that 2010 and 2011 were fluke seasons, the stakes are high for the entire team, even if the pressure is not.
A lot of the names you know. The Toben Opurums, Kale Picks and Daymond Pattersons have been around for years and have reached a certain level of notoriety. But there are guys behind them.
And not just back-ups. KU coach Charlie Weis has made it clear that this team will be only as good as its depth, which can show up in a number of different ways and places. While that typically involves the first- and second-string guys, you never know when one of the guys behind them will be called into action. Fortunately for the Jayhawks, their depth extends beyond two deep at some positions.
So here they are, in no particular order, five secret assassins to keep an eye on this season. These guys might not be starters, might not play much and might not finish the season among the team's statistical leaders. But I'd bet dollars to donuts that each will make a significant impact at some point this season.
Prinz Kande, junior linebacker: Kande's is a name people know. Recruited by former KU boss Mark Mangino and nearly invisible while Turner Gill called the shots, Kande has a chance to earn a few snaps because of his speed. Defensive coordinator Dave Campo has said a successful defense in the Big 12 has guys who can play in space.
Kande, a former safety, should be one of those guys, and the extra bulk he added a season ago while transitioning to linebacker should aid his ability to bring down ball carriers once he gets to them.
During a couple of recent practices, Kande has worked with the first team. It doesn't mean he'll stay there or ever even start there, but it does mean he has a chance to play. And it likely means he's ready.
John Williams, junior defensive tackle: Williams did not work as hard as he did to transform his body to sit on the bench. Williams was KU's best defensive lineman a season ago before an early injury wiped out his potential to blossom, and coaches have said the now more-chiseled Williams picked up where he left off. With so much of the defensive-line focus on the Jayhawks' newcomers, Williams has worked in the shadows throughout the offseason.
With Weis and Campo pledging to roll in first- and second-string guys throughout the season, it's hard to envision a scenario where Williams is not one of the four best interior linemen in crimson and blue.
Andrew Turzilli, sophomore wide receiver: Turzilli might not have caught a meaningful pass for the Jayhawks during his first two years in town (one was a red-shirt season), but all signs from camp point to that ending in 2012.
Quietly catching everything thrown his way this preseason, Turzilli could be in for a breakout year. With seniors D.J. Beshears, Patterson and Pick receiving a lot of the throws from senior quarterback Dayne Crist, there figure to be precious few catches to go around. But Turzilli, with his 6-foot-3-inch frame, slippery athleticism and sweet timing should get quite a few looks down the field.
Ben Goodman, red-shirt freshman defensive end: Before the coaching change, Goodman was one of the most promising young players on the KU defense. The good news for Goodman is his position coach, Buddy Wyatt, is still around, so all of that goodwill he built up during his red-shirt season will not go wasted.
Goodman has more competition now, but the 6-foot-3, 260-pound end is athletic and explosive, and Wyatt's recent reminder that people should not forget about him likely serves as a sign that the Beaumont, Texas, native has something to offer when it comes to rushing the passer.
Tre Parmalee, freshman wide receiver: Weis raved about Parmalee this preseason, even going as far as to use him as an example of a guy he would use if he thought it would help the team, regardless of his red-shirt potential. We might not have learned everything about Weis yet, but we have learned enough to know this was no accident. He's not the type to single out a guy unless the guy deserves it. And Parmalee deserves it. The Bishop Miege High grad has been one of the most consistent wideouts in practice and already has earned the trust of his teammates.
KU's receiving corps is deep and talented, and this might not be the year that Parmalee is called on to catch a lot of passes. But it seems like a safe bet that he will find a way to get his hands on the ball somehow, even if that's just in the return game.