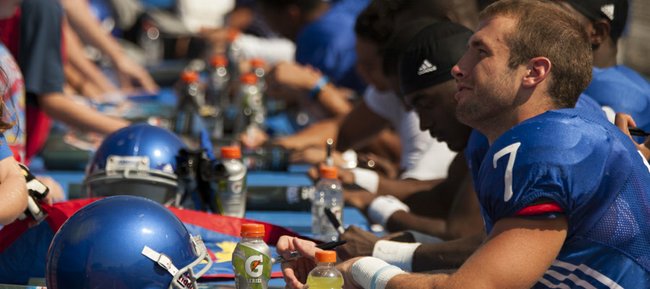 When talking about Kansas University wide receiver, Kale Pick, one word continues to come from the mouths of Pick's teammates: "natural."
Whether they're using it to describe the way Pick runs routes or hauls in passes, or to convey the feel the Dodge City senior has for the game, teammates new and old have used the word over and over to describe him. That's natural, as in, derived from nature, or not acquired but inherent. Kind of odd for a guy who spent most of his life playing a different position.
"Sometimes you forget that (he played quarterback)," said senior QB Dayne Crist. "Because he looks like a very natural receiver out there."
That's high praise from a guy who's seen his share of stud receivers. But KU coach Charlie Weis took it a step further.
"If I had to rate the performances in camp, he would rate one," Weis said of Pick. "I'm not saying he's our best receiver, but if you had to rate performances in camp, he would rate one."
The reasons are simple. So simple, in fact, that Weis seemed to feel as if they did not need to be listed. He did anyway.
"He's just a guy you want on your team," Weis said. "He does all the little things: takes notes, pays attention to everything you say. He's doing the little extra things. You don't have to worry about him."
For Crist, that last part is huge. Whether it's through unspoken communication or direct contact in the huddle, the Notre Dame transfer said he and Pick had developed quite a bond in the eight months they've known each other. That bond would not have come without hard work from both guys, Crist said, and now that it's there, it seems to be set in stone.
"You can't look out there after any given play or any given practice and say, '(Number) Seven didn't have a very consistent period,'" Crist said. "He's bringing it every day. I expect that from him now."
Pick has expected that his entire life. From his days as a dual-threat quarterback in high school to his first few seasons as a QB at KU, Pick always has carried himself with great confidence and belief in his ability. That's what helped him survive a Week-1 benching in 2010, a broken leg a few weeks later and a position change not long after that. And it's those things that are driving him to have the best camp of his career.
"My goal for practice is to take advantage of every rep," Pick said. "That's what I really look forward to. I've been in a position where someone's told me I can't play, and I've been injured, too. It's not fun. So I really try to play every play like it's my last play."
His teammates and coaches have noticed. Asked what makes Pick a good leader, sophomore tailback Tony Pierson needed just four words to answer.
"Kale backs it up," Pierson said.
Asked what he thought of Weis labeling Pick as the top performer in camp so far, senior center Trevor Marrongelli whole-heartedly agreed.
"Lately, he's been making some amazing plays," Marrongelli said. "Some of the catches he makes, jumping over defenders, one handed catches, have been phenomenal. He's practicing just like he'd play in a game."
And he reminds Marrongelli of another former teammate — Atlanta Falcons wide receiver Kerry Meier.
When Pick first moved from QB to wide receiver, many made the comparison right away. It made sense. And Pick was flattered. But rather than being content with people calling him the next Kerry Meier, Pick has his sights set on playing like him.
"I'm not trying to be anybody," he said. "I want to be my own person and go about things my own way. But one thing I really enjoyed about Kerry is how serious he took football. I just really enjoyed watching how much he cared about this game and this university and the team that he was affiliated with."
Marrongelli liked that, too. And he's enjoying it all over again with Pick.
"It feels like déjà vu, to tell you the truth," Marrongelli said. "That's exactly what it feels like."