As the Jayhawks move toward the end of the second week of fall camp, the only thing settled about Kansas University's back-up quarterback competition is that playing the position can be unsettling.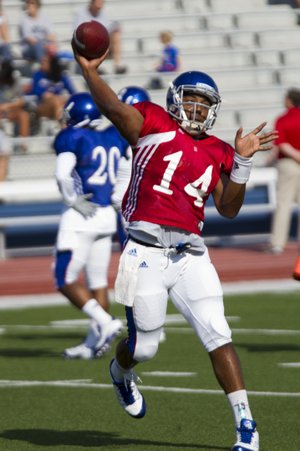 As sophomore Turner Baty and red-shirt freshman Michael Cummings vie to become the guy behind starter Dayne Crist, both have figured out it's going to take a lot of work to win the job. That's mentally and physically, as the Charlie Weis offense puts severe strain on both areas.
"There's a lot of communication," said quarterbacks coach Ron Powlus, who praised both guys for their work ethic. "A lot of things get identified at the line of scrimmage, so there's a lot of nuances that they have to see and make decisions on quickly for us to have a successful play. So they're not in a situation where they just call a play and walk up and run it. There's a lot of thinking that has to go on every second."
Student manager and head coach's son, Charlie Weis Jr., who knows the offense as well as anybody on the KU roster, recently provided a glimpse into just how much there is to keep straight.
"There's a lot of moving parts to it and there's a lot of thinking involved," the younger Weis said. "Whether it be Mike IDs, motions, knowing the formations, your progressions, knowing the running game, your run tracks, whatever it may be, there's a lot of stuff at the quarterback position."
And that's just one play.
Weis said Monday that if he had to play a game today, Cummings would be KU's No. 2 quarterback. Seconds later, he emphasized that Baty and Cummings were in an ongoing competition and it seems likely that a winner will not be named for a couple more weeks.
According to both Baty and Cummings, the best part about the competition to be No. 2 is the teamwork that has gone into it. Unlike some competitions, where tempers can run hot and intensity can take over, the battle behind Crist has been very friendly.
"Turner's a cool guy," Cummings said. "Of course there's the competition between us, but, at the same time, we're all on the same team, we're in the quarterback room and we're all working together to get better."
Added Baty: "We all have a common goal. We all want to win. That's the bottom line."
Although Cummings was on campus last season, Powlus said he did not enter camp with any extra advantage on Baty, who transferred from City College of San Francisco.
"It's a whole new system for both of those guys," Powlus said. "Really, Dayne's the only one that had any familiarity with our offensive system. Right now, they're both learning and both working to get consistent and working hard at it."
Powlus did not indicate any time frame for making a decision, only that the coaches would continue to push both players throughout camp.
"Reps help and practice helps," Powlus said. "The experience of it all helps. But you have to be knowledgeable and once you're knowledgeable, then you can be confident. That's what we're trying to get those guys to."