A colorful character with a thick South Jersey accent, a sharp sense of humor, an endearing laugh that has a hint of sinister to it and a deep love for Italian cooking and barbecue, Kansas University senior tight end Mike Ragone has but one color to his collar, and it's blue.
"Just soft-spoken, laid-back, quiet usually," Ragone said of his personality. "Then go onto the field, turn into an animal. You've got to, right?"
Right.
"I love being physical," he said. "As you can see, my nose is different colors."
Red, purple, black and blue.
"I don't think I've broken it," he said. "It's still pretty, but it's got different colors on it."
Ragone is one of three seniors on KU's roster who have graduated from Notre Dame and will use a final year of eligibility playing for Charlie Weis, the coach who recruited them to play under the golden dome.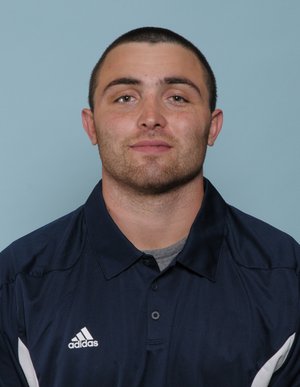 A 6-foot-4, 255-pound native of Blackwood, N.J., Ragone has one of those physiques that appears carved from granite. Rivals.com ranked him as the No. 3 tight end in the nation in the high school class of 2006.
But in parts of four seasons at Notre Dame, Ragone caught just 11 passes. He played behind a pair of NFL tight ends and suffered a torn ACL knee injury twice during his five years at ND.
Same player as before the injuries?
"I'm still Mike Ragone, babe," he said and laughed. "I'm still me. It's actually changed me for the better. It's matured me. When I was younger, I used to think that I was Superman. I was never hurt before, and then I tore my ACL for the first time in high school, and my whole mind changed. It made me stronger as a human being. I'm actually kind of thankful it happened."
KU tight ends coach Jeff Blasko said based on what he has seen of Ragone in camp, it's easy to understand why he was so highly ranked coming out of high school.
"Without question," Blasko said. "Anyone who has that kind of size, that kind of toughness, that can block the point of attack and in addition to that be able to run and catch the football consistently, there's no question it doesn't surprise me at all."
Blasko called Ragone "a tough guy, tough guy, brings a sense of toughness to the entire offensive unit."
Blasko attributed many of the same football skills he listed for Ragone to backup tight end Jimmay Mundine and added, "huge, huge improvement from spring practice."
Sophomore Trent Smiley, a better blocker than receiver, and junior college transfer Charles Brooks, a better receiver, add depth at tight end.
Tavai in camp
Friday marked the arrival of one of the final pieces of KU's defense this season, as defensive lineman Jordan Tavai, a junior-college transfer from El Camino CC in California, arrived on campus and practiced with the team for the first time.
The 6-foot-3, 290-pound Tavai reported late to camp because he was busy finishing up classes at El Camino. Weis has said that Tavai could be used as a defensive end or a defensive tackle, depending on where the team needs the most help as camp progresses.
Tavai dressed out in shorts and a helmet on Friday. Because of NCAA rules, he'll have to go through two practices like that and two more in just a helmet and shoulder pads before he'll be able to suit up in full pads. He will wear No. 9 this season and is listed as a second-string defensive tackle on the most recent depth chart.
In other D-Line news, Ty McKinney, KU's other juco transfer still waiting to report indicated on his Twitter page recently that he would be in Lawrence on Tuesday.
Fan appreciation day
This morning's practice — the first of two scheduled for today — will be open to the public and will provide Jayhawk fans the chance to get a sneak peek at this year's team.
Officially dubbed "Fan Appreciation Day," the action will feature a full practice open to the public from 8:45-10:45 a.m. and a 30-minute autograph session following the day's drills.
Fans are asked to sit on the west side of Memorial Stadium, and all gates on the west side will open at 8:15 a.m.