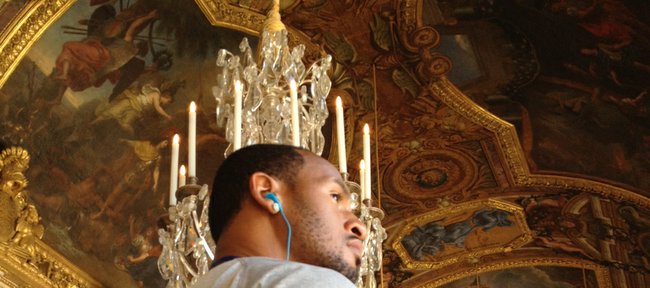 Photo Gallery
Jayhawks tour Palace of Versailles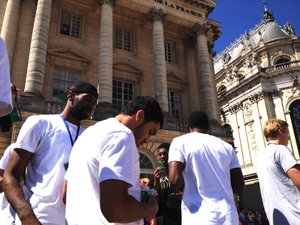 The Kansas men's basketball team toured the Palace of Versailles on Friday, Aug. 10, 2012, in Versailles, France.
Versailles, France — Kansas University coach Bill Self hasn't been able to gather much information about AMW Team France, which is KU's opponent in today's 1 p.m. Central exhibition game at Stade Pierre de Coubertin in Paris.
"I had lunch with their coaches (Friday), and they're just putting the team together," Self said. "They've only been together four days now, I think, but it's pro players from over here in the A and B (French professional) leagues."
Self said the impression he has is that AMW Team France will be more talented than the Swiss national team (which KU defeated, 79-76 and 83-79, earlier this week) but will have players who haven't played together nearly as long.
"You could tell talking to the coaches (Friday) that this is a big deal, and they're taking it serious," Self said. "I hope our guys do as well. We haven't played well since we've been here. I think there's a couple reasons for that, but we need to step up and play (today)."
The atmosphere could change as well, as the 3,800-seat stadium is not sold out but should have a much bigger crowd than the two games in Switzerland, which averaged 225 fans.
Europe coaching change
Self actually has won only one game as head coach during KU's exhibition trip this week.
During Wednesday's 83-79 victory over the Swiss national team, Self allowed assistant coach Joe Dooley to be the head man on the sidelines.
Self will coach today's game before letting assistant Kurtis Townsend take over during the final game Sunday.
"Norm's been a head coach (at St. John's) for six years, so he's called the shots," Self said, referring to KU assistant coach Norm Roberts. "But these guys haven't had an opportunity to do so. They need to make their own subs and do some things and do it in a way that I'm in the background."
Dooley also called the team's timeouts Wednesday while serving as the mediator with officials.
"We were down three late and ended up winning by four," Self said, "so he did a good job."
Self told his team before it left for Europe that Dooley would coach Game Two and Townsend would coach Game Four.
"Our assistants do a ton of stuff in practice very similar to the way that we did it when I was at Oklahoma State, but they haven't had any game (head-coaching) experience," Self said. "This is good for them."
Pregame plans
Self has scheduled a shoot-around from 1 to 2:15 p.m. local time before his team's game today.
After the run-through, the Jayhawks have planned to go shopping together as a group before relaxing prior to the 8 p.m. local (1 p.m. Central) tipoff.