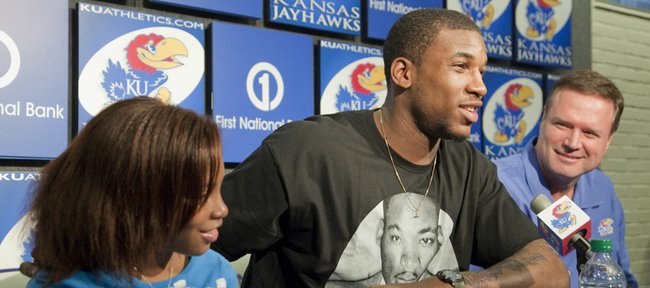 Podcast episode
Kansas forward Thomas Robinson and KU coach Bill Self talk during a press conference on Monday, April 9, 2012, when Robinson announced he would be declaring himself eligible for the NBA Draft.
Kansas University junior basketball forward Thomas Robinson glanced lovingly at his sister, Jayla, who flew in from Washington, D.C., Monday to spend her ninth birthday with her big brother.
What will Thomas buy his little sister with his first fat, guaranteed NBA contract next season?
"Whatever she wants," Thomas said. "I really don't know. I'm just happy I have that option, and I don't have to worry about anything anymore for the most part."
The 6-foot-10, 240-pound Robinson — with coach Bill Self to his left and Jayla to his right — announced at a news conference Monday he'd be entering the 2012 NBA Draft, where he's expected to be a top-five pick.
"It means a lot, and it was a last-minute thing," Robinson said of Jayla's being in town. "Today is her birthday. She is 9 years old so she should be able to remember this one pretty well."
Robinson, who was embraced by Jayhawk Nation following the death of his and Jayla's mom, Lisa, during January of 2011, said it's tough to express how much KU fans mean to him.
"I have been up all night trying to come up with a thank-you note or something to show my appreciation, but I couldn't get anything out because I think it is beyond words what this program meant to me and how much support I felt coming from my situation," Robinson said. "Even when I arrived on campus, somehow, some way, everybody makes each player feel special here.
"It is going to be hard leaving, and I am going to miss my teammates, the coaching staff, the fans and just the town, period, but this puts me in a situation to take care of my family — my little sister."
Robinson, who said he'll soon begin the process of finding an agent, said he'll especially miss "just being able to walk around campus and getting that feeling that everybody loves you. That and probably the pregame talks with coach Self saying the same thing he says before every game, but saying it 100 miles per hour, and I can't hear it. Running through the tunnel … just certain things like that, which I won't be able to get back."
There were plenty of smiles and jokes at a news conference which Self said was held on a "glorious day."
"In all honesty, I have known this would happen since last summer," Self said. "I've said publicly at times that our goal is to put him in a position where this would possibly be the case. There is no shot that he would, but even if he would after careful deliberation tell me he wanted to come back, I would strongly encourage him not to. This is the best time for him. He has done everything plus some that we could have ever expected him to give to our program — both as a player and as an ambassador. He is a guy who is probably as loved as anybody who has played here in a long, long time, and I think that the entire Jayhawk Nation should see this as a great day for everybody.
"More so with Thomas than any other player who has played here, I think Kansas looks at Thomas as one of their very own because they watched him grow up right before their eyes," Self added. "He said all along that his mission was to put himself in a position to take care of his family and to take care of Jayla, and I think he has earned a right to do so."
Self said Robinson has a chance to be the highest-drafted player he's tutored. Deron Williams of Illinois was a No. 3 overall pick in the 2005 Draft.
"I think Thomas has put himself in a position to be in the lower-end of the top five. Hopefully he can impress enough in the workouts to go higher," Self said. "To me, more than anything is to put himself in a position to show what he can do. He has some things that you can't teach or can't coach, but he still has so much that he can learn. I think he will be a hugely successful NBA player."
Robinson — who said he would "be a workhorse and I am going to do what everybody else is not going to want to do" — indicated he would attain his college degree in accordance with his mom's wishes.
"Definitely. I'm not that many hours away, and with the help of our academic advisors here, it should be no problem. As far as the degree, that's something my mother would want me to get, so I'll definitely have to find the time to come back and get that," he said.
He's not sure when he'll begin working out for the draft.
"Everything is all new to me right now," he said, "so I don't have a schedule, but I do know that I'll have to be in the gym like I've never been in it before to try to train my mind and my body to help me get ready for what's about to come."