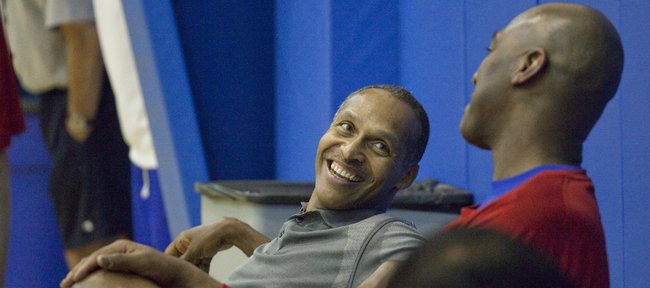 Norm Roberts, who spent one season next to his buddy, Bill Self, on Kansas University's basketball bench, is back for a second stint in Lawrence.
Roberts, who left KU to run his own program at St. John's University after the 2003-04 season and worked there six years, on Monday was named Danny Manning's replacement as assistant coach at KU.
"This is a great opportunity. I loved my time at Kansas. I always thought my time there was too short," Roberts, assistant coach at the Florida during the 2011-12 season, said in a phone interview. "I was only there one year, but I loved KU, loved Lawrence. The opportunity to go back and be part of that program again is awesome."
Roberts, the father of KU sophomore guard Niko Roberts, is expected to be in town Wednesday gearing for the start of spring recruiting.
"Working for Coach for nine years (at Oral Roberts, Tulsa, Illinois, KU) has helped my foundation as a coach," Roberts said. "The opportunity to work with Joe (Dooley) and Kurtis (Townsend) and the rest of the staff will be great as well.
"It's going to be even more special because my son is there. He's built his own life at KU. He wanted us to come and be there, and obviously the mom and dad want to be near their son. His brother, Justin (eighth grader who is a point guard), is really excited. The opportunity to reunite our family in a place we love and enjoy is awesome.
"Obviously my wife (Pascale) is close with Cindy (Self), and our families are very close. This is a great opportunity for me and my family. I'm really blessed."
Self said he's "thrilled" that Roberts has re-joined his staff. Manning left KU to become head coach at Tulsa.
"We were together for nine years. My family helped raise his kids. His family has helped raise mine. We're close," Self said. "Certainly we hate to see Danny go, but Norm coming back will be a big bonus to our program.
"He's always been a Kansas guy, having worked Kansas basketball camps in the 1980s for coach (Larry) Brown," Self added of the 46-year-old Roberts. "As good as he was when he left, now he's got six years of head-coaching experience under his belt in addition to all the recruiting experience. I think he's going to be a huge asset to our program."
Roberts said he'll miss Florida.
"Billy Donovan has been really, really good to me. I would consider him one of the top five coaches in America, and I learned a tremendous amount being here with Billy and his staff. Leaving here, I feel I'm a better coach and a better person to have worked at Florida," Roberts said
Florida coach Donovan said: "Norm Roberts did a great job on our staff the past year here at Florida. I have a lot of respect for the Kansas program and Bill Self, and I know this is a great opportunity for Norm and his family to all be together."
Self said he was in no hurry to fill his director of basketball operations opening. Barry Hinson recently left to become coach at Southern Illinois University.