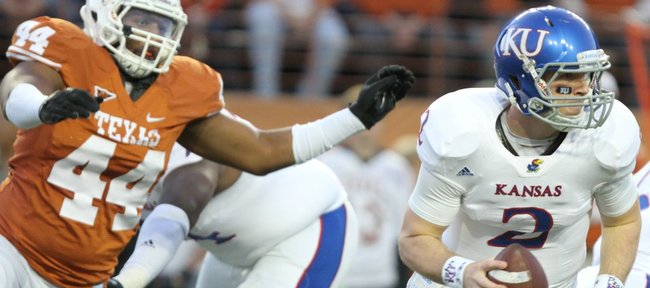 Podcast episode
Kansas coach Turner Gill talks to reporters following the Jayhawks' 43-0 loss to Texas on Oct. 29, 2011.
KU vs. UT
Austin, Texas — Without asking anyone, Texas linebacker Emmanuel Acho ran back onto the field. Immediately, linebacker Keenan Robinson followed him.
On Kansas' final possession of Texas' 43-0 victory Saturday night, the two starters wanted to make sure their shutout stood.
Even though they'd been benched earlier in favor of the second-teamers, the seniors put themselves back in while also taking their replacements out.
Two plays later, starting defensive backs Leroy Scott, Blake Gideon and Kenny Vaccaro also made their way onto the field for a crucial third-down play, helping secure UT's first shutout since 2005 when it defeated Baylor, 62-0.
"We all kind of looked at each other and said, 'Let's go. Let's go play ball. Let's go get the shutout,'" Gideon said. "We did, and it worked out for us."
Texas coach Mack Brown said afterward he didn't OK the move. But he didn't stop it, either.
"I wasn't real happy with it, but to their credit, at halftime, it was huge for them to get a shutout," Brown said. "It's hard to get a shutout in college football anywhere, but it's really hard in the Big 12, as many points are scored."
The last time the Longhorns shut out an opponent at home was 2004, when they defeated North Texas, 65-0.
"I told them, 'If you'd have gone out there and gotten hurt and hadn't stopped them, we would have had a discussion,'" Brown said. "But it was OK. I was happy for them. They were really proud of themselves tonight."
Texas came close to setting a new defensive record.
The 46 yards of offense allowed was the second-lowest by a Texas opponent since 1944. The Longhorns held Southwestern to 37 yards in 1944 — some 67 years ago.
The negative-two yards allowed rushing also was the 20th-best effort in Texas history since '44.
"We were talking to some of the older guys, and they were saying that they've never done anything like this," Texas sophomore defensive end Jackson Jeffcoat said. "It's special, and we can build from it."
It was Texas' first home Big 12 win since Nov. 21, 2009, when the Longhorns also beat the Jayhawks, 51-20.
Texas was so dominant in the first half that it had 60 plays compared to KU's 13.
"We were actually worried about substituting our offense because they were so tired," Brown said.
Texas held Iowa State without a point through three quarters on Oct. 1 before allowing 14 points in the fourth quarter of a 37-14 victory.
"There's a very small percent chance that you're going to actually hold a team to no points, no field goals or anything," Gideon said. "That was huge for us, especially there at the end with a few of us kind of putting ourselves back in the game to get that stop."