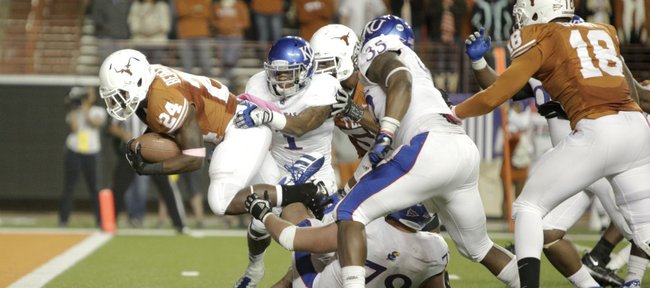 Podcast episode
Kansas coach Turner Gill talks to reporters following the Jayhawks' 43-0 loss to Texas on Oct. 29, 2011.
KU vs. UT
Austin, Texas — Stick together. Keep working. Move forward. For the past several weeks, those have been the words used by Kansas University football coach Turner Gill and his coaching staff to encourage a struggling football team.
Saturday night, during a 43-0 loss in front of a crowd at 99,211 at Darrell K. Royal Texas Memorial Stadium, the KU offense followed those words a bit too literally by dipping to a new low and playing the kind of game we've come to expect from KU's defense.
"I don't know (what to say) right now other than Texas just whupped us," offensive coordinator Chuck Long said. "They out-physicalled us, and this is one of the worst days I've had as a coach. It was a rough night, obviously. It's hard to take it all in right now."
The Longhorns limited the Kansas offense to embarrassingly feeble numbers in the first half, and that tone carried into the rest of the night.
In the first two quarters, Kansas gained just 10 yards, recorded one first down and ran just 13 plays. During that same time frame, Texas had 318 yards, 21 first downs and 60 plays.
By the end of the night, KU's totals weren't much better. The 46 yards of offense were the lowest since KU gained 44 yards in a loss to Nebraska in 1997. It marked the school's second lowest total since 1968.
KU's three first downs on Saturday also set a mark for futility, surpassing the previous low of four. That, too, came in a loss to Nebraska, this time in 1972.
The shutout — which came in large part because UT ran 96 plays and had the ball for 44:07, compared to 36 plays and 15:53 for KU — was the first suffered by Kansas since falling, 64-0, to Kansas State in 2002.
Wait. It gets worse.
The Jayhawks ran the ball 20 times against Texas on Saturday. Those 20 rushes yielded minus-2 yards, marking the first time a KU team finished a game with negative rushing yardage since 1997.
Had it not been for a 13-yard pass from quarterback Jordan Webb to wide receiver Christian Matthews with fewer than five minutes to play in the game, KU would've played all four quarters without crossing midfield. As it was, the Jayhawks did not move beyond UT's 40-yard line all night.
"It was definitely difficult to find a rhythm," Webb said. "Nothing we were doing was working. We just, all-around, didn't play a good game. Myself included. We've been answering the bell throughout the season pretty well, but we just couldn't get going tonight."
Even when the Jayhawks were able to record big gains, bad things happened. Brandon Bourbon's 20-yard reception on the first play of the fourth quarter ended with a fumble. Tony Pierson's back-to-back plays for 15 yards, early in the third, were followed by a run for negative yardage and a UT sack.
"I'm not gonna say we were gonna go up and down the field on them," Gill said. "But I expected us to move the ball somewhat."
While KU was struggling in every phase — the defense finished 10 yards shy of giving up 600 yards of total offense for the third time this season — the Longhorns were rolling. Coming off of back-to-back losses to Oklahoma and Oklahoma State, as well as their bye week, UT used the game against Kansas as its opportunity to get well.
The Longhorns led 26-0 at halftime and had two running backs — Joe Bergeron and Malcolm Brown — finish with more than 100 yards rushing. Each added two touchdowns, the first of which came at 10:06 in the first quarter and proved to be the game-winner.
Of the incredible performance by UT's offense, which ran for 441 yards, Texas defensive coordinator Manny Diaz marveled: "We just watched the game as fans for 40 minutes."
KU fell to 2-6 overall, 0-5 in the Big 12, and sent the team's tail spinning even faster.
"You get tired of losing. You get tired of saying it all," junior safety Bradley McDougald said. "But it happened, so you just have to deal with it and keep going out there and giving it your all. If we fold, things can only get worse."
Added Long: "This team is frustrated. We're all frustrated at this point. We're fighting and scratching to find a win. It gets frustrating for young guys to go through something like this, and we feel for them. I'm hoping that it's just more of a hiccup than something that's a pattern."
Like they've become accustomed to, the Jayhawks left Austin with their heads hung low and the same message coming from their mouths.
"Their guys were better than our guys," Gill said. "That's the only way to put it. We've just gotta keep working, and our coaches need to get better, and we gotta continue to get better for next week."
With next Saturday's contest at Iowa State being the first game in November, several Jayhawks are looking forward to flipping to the next page in their calendars.
"We knew going into the season that October was going to be rough," said Long, whose team was 0-5 this month and was outscored 267-100. "It was going to be a tough month for us and our football program. And it ended in an exclamation point tonight."