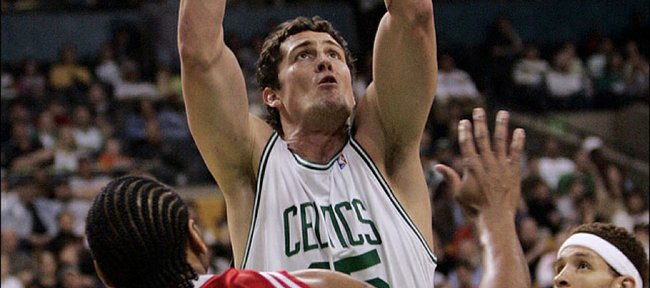 Former Kansas University athletic director Bob Frederick, basketball coach Dick Harp and All-America forward Raef LaFrentz today will be inducted into the Kansas Sports Hall of Fame in Wichita.
LaFrentz, a 6-foot-11, 245-pounder from Monona, Iowa, who played at KU from 1994-98, was a two-time consensus first team All-American, Big 12 Player of the Year and three-time all-conference player. He's KU's No. 3 scorer and No. 2 rebounder of all-time.
"To be considered for the Kansas Sports Hall of Fame is a great honor," LaFrentz said. "There is a long list of athletes from all sports that achieved at very high levels, and to be added to it is very humbling. It always feels good to be recognized for the work done during competition."
Lefty sharpshooter LaFrentz averaged 15.8 points off 55.5 percent shooting and grabbed 9.1 rebounds per contest while helping KU to a 123-17 record in his four-year career.
"I think Raef is the most prolific low-post scorer we've had at Kansas in the last 30 years," said former KU guard Ryan Robertson, a teammate of LaFrentz at KU. "When Raef would post down on the block and do one of those fadeaway jumpers, it was as close to a guaranteed basket as there is in basketball. It was one of the most unstoppable moves we've seen at Kansas.
"What made Raef so tough," Robertson added, "was not only his ability to score with his back to the basket, but that face-up jumper he developed as he got older and more mature. He was a very, very rare talent because of his height and skill. When you are an athletic 6-11 guy who can shoot it, you will end up being a lottery pick, and that's what he was."
LaFrentz was taken third overall by Denver in the 1998 NBA Draft.
He played 11 seasons with the Nuggets, Dallas Mavericks, Boston Celtics and Portland Trailblazers. He had career averages of 10.1 points and 6.1 rebounds per game.
"Raef was a great teammate," Robertson said. "He wanted the ball at crucial times. Everyone respected him for that. Whoever does the rankings ... he has to go down as one of the all-time great Kansas basketball players."
LaFrentz, 35, who has been retired from the NBA for three years, lives in Iowa with wife, Joie, and sons Cael and Rex.
"I spent many years traveling playing basketball. Raising my sons takes up most of my time, and I wouldn't want it any other way. We waited until my career was close to an end to start a family for that reason," LaFrentz said.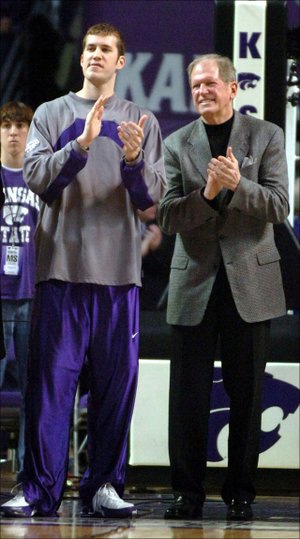 Frederick, who played hoops at KU in 1960-61, served as KU athletic director from 1987-2001. During his tenure, KU teams won 32 conference championships and produced 41 Academic All-Americans. He served on the NCAA basketball tournament's selection committee from 1992-96 and was the chair in 1995 and '96.
The Senior Scholar Athlete Award at KU is named in his honor. In 2010, the NCAA created the NCAA Bob Frederick Sportsmanship Award, which honors an NCAA administrator who shows the highest respect for intercollegiate athletics.
He died in 2009 at the age of 69.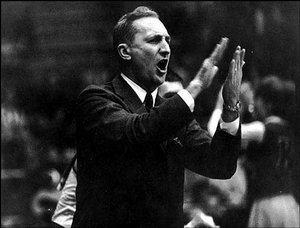 Harp compiled a 121-82 record as head basketball coach at KU from 1956-64. His Wilt Chamberlain-led 1957 team lost to North Carolina in triple overtime in the national championship game. The 1960 Jayhawks won the league title but lost to Cincinnati in the Midwest Regional. Harp was an assistant coach under Phog Allen from 1948-56 and a starting guard on KU's 1940 team that placed second in the NCAA Tournament. He later served as an assistant coach under Dean Smith at North Carolina from 1986-89.
Harp died in 2000 at the age of 81.
Others to be inducted during a 4 p.m. ceremony at the Wichita Boathouse, are: Kansas State All-America basketball player Kendra Wecker; K-State All-America linebacker Mark Simoneau; former Emporia State track athlete John Camien; Wichita State All-America baseball pitcher Don Heinkel, Wichita State football coach Willie Jeffries; and Pittsburg State football All-America Ronnie West.
— Harold Bechard, formerly of the Kansas Sports Hall of Fame, contributed to this report.