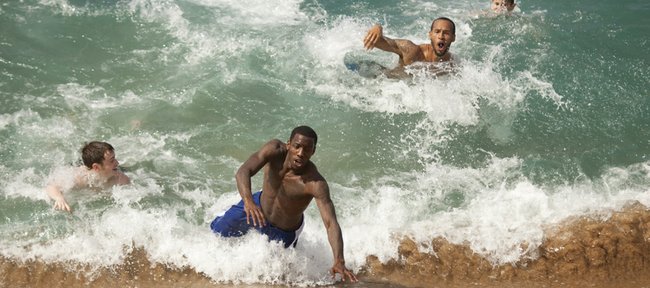 Photo Gallery
Jayhawks in Maui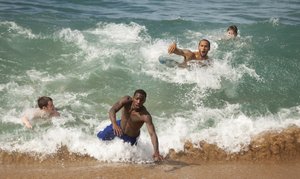 The Kansas Jayhawks and fans hit the beach prior to the start of the Maui Invitational.
Lahaina, Hawaii — A talented but inexperienced Kansas University basketball team struggled mightily during the 2005 Maui Invitational.
"If anything, we were humbled," KU coach Bill Self said, reflecting on the likes of freshmen Brandon Rush, Mario Chalmers and Julian Wright and sophomores Russell Robinson and Sasha Kaun losing to Arizona (61-49) and Arkansas (65-64) before downing Div. II Chaminade (102-54) in KU's last trip to paradise.
"That wasn't a bad thing with that team," Self added of the taming of a squad that wound up winning the Big 12 regular-season and postseason tournament titles and finished 25-8 after a first-round loss to Bradley in the NCAA Touranment.
"This is a different team," Self noted. "Our nonconference schedule is so tough, we need to certainly play well out here and come away from here believing we're closer to becoming a team, which is probably my goal for this trip as much as anything."
The Jayhawks (1-1), who meet Georgetown (2-0) in a first-round Maui Invite clash at 11 p.m. today in Lahaina Civic Center, aren't as young as in 2005. They're just as inexperienced in terms of playing time, however.
"I don't know if it was a great trip last time," Self said. "I'm certainly hopeful this is more fun. I know it's not as much fun playing those 8 and 9 a.m. (losers bracket) games. We need to make sure we play well against Georgetown so we play in the evening."
The winner of today's game will meet either UCLA or Chaminade at 8:30 p.m. Tuesday. Losers meet at 3:30 p.m. Tuesday.
Today's first-round games on the other side of the bracket pit Michigan vs. Memphis and Duke vs. Tennessee.
The championship game is 9 p.m. Wednesday, following consolation battles at 1:30, 4 and 6:30 p.m.
"For us to win this, we've got to beat a really good team and a couple other nationally ranked teams," Self said, well aware half the field (KU, Duke, Memphis, Michigan) is ranked in the AP poll.
KU's opening test is a John Thompson III-coached Georgetown squad that has defeated Savannah State (83-54) and UNC-Greensboro (86-45).
"Their bigs can really pass," Self said. "Lubick (Nate, 6-8 sophomore, 7.0 ppg) is really a good passer, and Clark (Jason, 6-2 senior, 13.0 ppg) is as active as any big guard we'll play against. Hollis (Thompson, 6-8 junior, 16 ppg) is 7-for-9 from three this year. They can really shoot it.
"They run the variation of the Princeton offense. They get baskets off back-cutting. We have to do a good job of eliminating layups and eliminating threes, which has always been a strategy of ours. We face a big challenge against somebody like that," Self added.
Senior center Henry Sims averages 13.5 points, 6.5 rebounds and 4.0 assists per game. He has made 11 of 14 shots for 78.6 percent. Sophomore guard Markel Starks is 4-for-8 from three-point range and averages 9.5 points per game. Other GU regulars include four freshmen: forward Otto Porter (7.0 ppg, 6.0 rpg and a team-high four blocked shots), forward Greg Whittington (5.5 ppg, 3.5 rpg), guard Jabril Trawick (5.5 ppg, 2.5 rpg) and forward Mikael Hopkins (5.0 ppg, 4.5 rpg).
"It's a little bit different going in. We don't have a lot of tape," Self said of teams in the field. "Duke's played the most games so far, three. I'm not even worried about the other half of the bracket because we have two games to scout them in person. I'm concerned about Georgetown and the next day the short turnaround. That's what I'm concerned with."