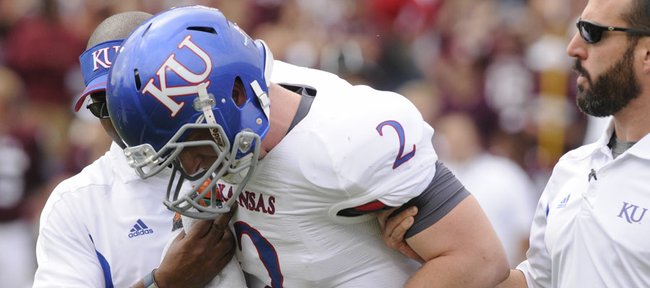 Podcast episode
Kansas coach Turner Gill talks to reporters following the Jayhawks' 61-7 loss to Texas A&M; on Nov. 19, 2011.
KU vs. Texas A&M
College Station, Texas — Kansas quarterback Jordan Webb was briefly removed from the game late in the first quarter of Saturday's 61-7 loss to Texas A&M; after taking a hit in the back from Texas A&M; cornerback Lionel Smith.
"Knocked the wind out of me a little bit," Webb said, "but nothing major."
Webb was helped off the field by trainers, and Quinn Mecham replaced him for one play — an incomplete pass.
Webb returned as KU's quarterback on the Jayhawks' next drive in the second quarter.
"I was hurting a little bit, but I definitely wasn't going to take myself out of the game," Webb said. "I came back and tried to fight."
The sophomore QB took plenty of hits Saturday. Webb was sacked six times — the most surrendered by KU's offensive line all season.
"A lot of it was just those blitzes they bring," Webb said. "They brought a lot of confusing stuff, and they just had us outmanned on some of the stuff. We kept playing, though, and that's all you can ask for."
Jeremiah Hatch leaves game
Kansas center Jeremiah Hatch left the game in the second quarter and did not return. He was questionable coming into the game with a leg injury.
"He's a tough guy, and when we were down like that, it wasn't worth him getting any more injured," Webb said. "He was trying his hardest to stay in, but they (coaches) didn't want anything bad to happen to him."
With Hatch out, sophomore Gavin Howard entered the lineup at left tackle, while Trevor Marrongelli moved from left guard to center and Jeff Spikes moved from left tackle to left guard.
Tyler Patmon, D.J. Beshears punished
Kansas cornerback Tyler Patmon was suspended one game and did not travel with the team to College Station after violating a team rule this week.
KU receiver D.J. Beshears also did not start and was held out of the first quarter for violating team rules.
Tim Biere out
Kansas tight end Tim Biere dressed but did not play in KU's loss to Texas A&M; because of an ankle injury.
This and That ...
Dexter Linton recorded his first start for KU, subbing in for Patmon at nickel back. ... KU running back James Sims' 88-yard rushing game was his highest total since running for 110 yards against Northern Illinois in Week 2. ... KU wide receiver Christian Matthews' four catches and 39 yards receiving were both career highs. He now has a reception in five straight games. ... KU linebacker Darius Willis' 10 tackles matched a season high for him. ... KU allowed a safety after an errant snap on a punt, marking the second time this season the Jayhawks had allowed a safety. ... Dustin Harris' 72-yard punt return for a touchdown was the first surrendered by KU since 2008 (FIU). ... Temperature at kickoff was 79 degrees under partly cloudy skies with wind gusts of 19 miles per hour from the south.