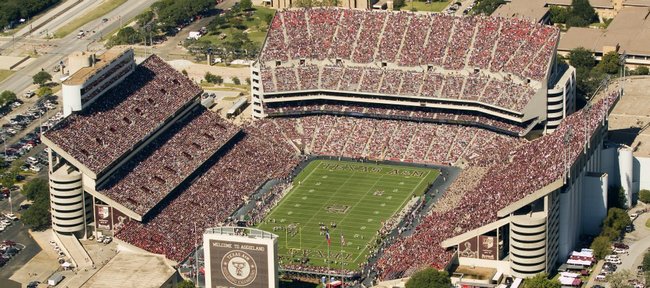 With Texas A&M; headed to the SEC next year and the Kansas University football team set to play what could be its final game ever at iconic Kyle Field at 11 today, it only made sense for the KU players and coaches to take a stroll down Memory Lane this week.
Just about all of KU's coaches have coached a game at Kyle Field, but only a handful of KU players have ever been inside the stadium. Those who have been there share similar stories about the experience.
"Great atmosphere," said offensive coordinator Chuck Long, who coached against A&M; during his time with Oklahoma. "One of the best in college football. It's hard to explain to guys what it's like until they get down there. It's one of those places that keeps the noise in because it's so tall."
KU coach Turner Gill, who made a couple of trips to College Station, Texas, while working as an assistant at Nebraska, made his first trip while coaching wide receivers at SMU in 1991.
"The thing I remember about it was being in the press box, and the press box was shaking when they do their chants and cheers," Gill said. "That was probably the only thing that was unusual as you go into different stadiums."
In its preseason college football edition, Sports Illustrated named the gameday experience at Kyle Field as the best in college football. Of all the names given to Texas A&M;'s home football stadium, none quite deliver the true message of what it's all about. "Aggieland" and "The Home of the 12th Man" have nice rings to them, but there's a simpler way to spell it out — intimidating.
"Well, you did have a home-field advantage," said offensive line coach J.B. Grimes, who coached the Aggies' offensive line from 1998-2002. "There's no question about that. With that crowd and the way they approach football games, they love their university, they love their football team, but they're also a place that treats their opponents with respect."
Built in 1927 — and completed in 1929 — Kyle Field has been one of the most spirited home stadiums in college football for decades. With bleachers that extend three decks high and tower over the field on three sides, and a press box that famously sways when the joint is rocking, playing at Kyle Field can be a nightmare for opponents. Even though many Jayhawks have yet to experience it, they've all heard the tales.
"Yeah, I'm looking forward to it," said senior linebacker Steven Johnson. "I want to see the 12th man and see what it's all about and just what it's like playing at that level. It's going to be a good experience. Something I'll probably never forget."
Added sophomore quarterback Jordan Webb: "I've heard a lot of good things about it and I'm definitely excited for it. I've heard it ranks right up there with all the other big places in college football. It's definitely going to be an awesome opportunity."
None of the 38 Texans on KU's roster are College Station natives, but senior defensive tackle Patrick Dorsey, sophomore linebacker Darius Willis (both of Houston) and sophomore defensive end Keba Agostinho (Katy) are from nearby. Although he grew up near A&M; and had plenty of friends enroll there, Dorsey said he had never been to the stadium.
"This ranks up there, playing at College Station," Dorsey said. "It'll be a big deal for me."
One of the few Jayhawks who has been to Kyle Field did not play the day he stepped into the stadium. That gave offensive lineman Jeremiah Hatch, who was red-shirting during his freshman year the last time the Jayhawks played at A&M; (a 19-11 victory in 2007) a chance to soak up every aspect of the environment.
"It was a football atmosphere," Hatch said. "It's what you want. You couldn't hear anything, things were moving, benches were moving. It was loud. It was a good experience for me."
Grimes is one of two members of KU's coaching staff to have spent time at A&M.; Defensive line coach Buddy Wyatt also worked at A&M; from 2000-02. While Grimes and Wyatt have experienced what life is like when the Kyle Field crowd is on your side, KU's other coaches have just as much respect for the classic stadium.
"I've been to a lot of venues, playing and coaching, and that's very unique," Long said.
Although today's match-up is about enjoying a new experience and searching for a way to crack into the win column, Johnson said he'd be lying if he said sending the Aggies off to the SEC with a loss to the Jayhawks didn't cross his mind.
"It does," he said. "These next two weeks, we've got two teams going to the SEC (KU plays Missouri on Nov. 26) and we've got a team that wants to win so bad. There's not gonna be any quit in us. We're gonna try to get this thing turned around and get it going for next season."