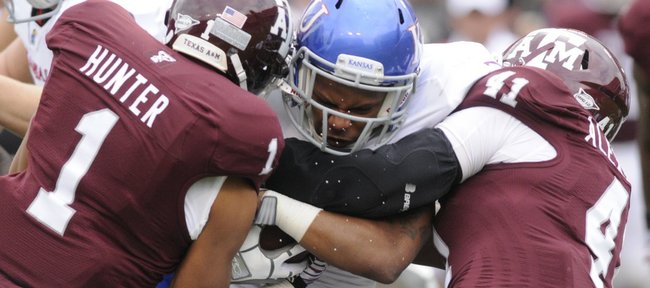 Podcast episode
Kansas coach Turner Gill talks to reporters following the Jayhawks' 61-7 loss to Texas A&M; on Nov. 19, 2011.
KU vs. Texas A&M
College Station, Texas — With four games to play, and the 2011 season all but lost, the Kansas University football team turned to the slogan, "Remember November," in an attempt to find a way to fight through the final month.
After suffering a 61-7 beating on Saturday in front of a crowd of 86,411 at Texas A&M;'s Kyle Field, all anyone wants to do is forget.
"A slogan is a slogan," senior linebacker Steven Johnson said. "But at the end of the day, you still have to go out there and win games. And when you can't execute and do things like that, then a slogan can't back you up. You gotta go out there and work. You gotta have some substance about it."
This latest loss — arguably KU's most embarrassing in a season full of colossal failures — dropped the Jayhawks to 2-9 overall, 0-8 in Big 12 play and 0-3 in the month that was supposed to be different. There was no substance, only a variety of did-that-really-just-happen moments that allowed the Aggies (6-5, 4-4) to race out to a 23-0 lead after one quarter and a 44-0 lead at the half.
"It was a tough ballgame," KU coach Turner Gill said. "Guys just seemed like they didn't have the energy early, and Texas A&M; got after us pretty good. We got outcoached and outplayed."
Asked specifically how the Jayhawks were outcoached, Gill pointed to the start.
"For me, it's getting the guys ready to play," he said. "You gotta get your guys ready to play, and I didn't do a very good job of getting our guys ready to play at 11:10 today. So that's on me as a coach."
That's not to take anything away from Texas A&M;, which deserved plenty of credit for dismantling the Jayhawks. Despite being relieved midway through the game, A&M; quarterback Ryan Tannehill and tailback Cyrus Gray damaged the KU defense. Tannehill completed 21 of 26 passes for 280 yards and three touchdowns. Gray added 94 yards and three touchdowns on just nine carries.
Defensively, the Aggies were equally unruly, finishing with six sacks and limiting KU to 197 yards of total offense, including 64 rushing yards on 55 carries.
When the Aggies weren't having their way with the Jayhawks, the Jayhawks did all they could to help this one get out of hand.
First came a high snap from Tanner Gibas that sailed over punter Ron Doherty's head with 6:01 to play in the first quarter. By the time Doherty caught up to the ball, he was in the back of the end zone. The safety made it 9-0.
On the free kick that followed, Doherty kicked the ball out of bounds, giving A&M; possession at midfield. Six plays and two minutes later, wide receiver Ryan Swope (nine catches, 137 yards) got 10 yards behind the KU secondary and made the score 16-0 with his first of two touchdown catches.
After another Gray touchdown, A&M; regained possession when a shotgun snap to KU quarterback Jordan Webb hit running back Tony Pierson's leg as he ran in motion behind the line. Three plays later, Swope caught a Tannehill pass near the KU 20-yard line, took simultaneous hits from KU defenders Keeston Terry and Greg Brown, bounced off both and strolled into the end zone.
"There were a lot of missed opportunities going on," Brown said. "We progressed over the past two weeks, and we kind of regressed this game. As a defense, we gotta know how to get out of tough situations. We have to learn to overcome those issues, and I'm sure we'll come out with a better outcome."
During a first half in which it scored on six of its seven possessions, the Texas A&M; offense enjoyed an average starting field position of its own 48-yard line. Three of those drives started in KU territory.
As if that wasn't enough, Webb also threw an interception and lost a fumble in the dreadful first half, and the Aggies called timeout with 2:10 to play in order to save time to mount one more scoring drive.
"We were a little flat," Johnson said. "And I couldn't tell you why we were flat. Everything that could've went wrong just went wrong."
Not only was A&M;'s first-half onslaught efficient, it also happened quickly. The Aggies had the ball for just 8:24 in the first half — compared with 21:36 for KU — yet ran 33 plays and racked up 321 yards of offense. A&M;'s longest scoring drive in the first half took 2:03. Its shortest, 22 seconds.
The Aggies also never punted.
On a day with few bright spots, the Jayhawks found one on their final drive, when sophomore running back James Sims scored his ninth touchdown of the season from 15 yards out to prevent a shutout with 46 seconds to play.
"It meant a lot," said Sims, who finished with 88 yards on 19 carries. "It just meant that we didn't give up. The outcome was pretty bad, but we still stuck together and finished. That's what the coaching staff wanted us to do. They just wanted us to push forward and score before the end of the game."
Although lopsided scores are starting to become routine for the Kansas football program — the loss was KU's sixth by 30 or more points this season — most Jayhawks have not moved past the point of embarrassment. With 38 Texans on the KU roster, nowhere are the poor performances more painful than in Texas, where Gill's KU teams have been outscored 159-14 in three trips to The Lone Star State.
"It's frustrating coming back home and going out there competing, but it's not even looking like you're competing," said Brown, a native of Cedar Hill, Texas.
Added Johnson, when asked if Saturday's setback was a new low: "Yep."