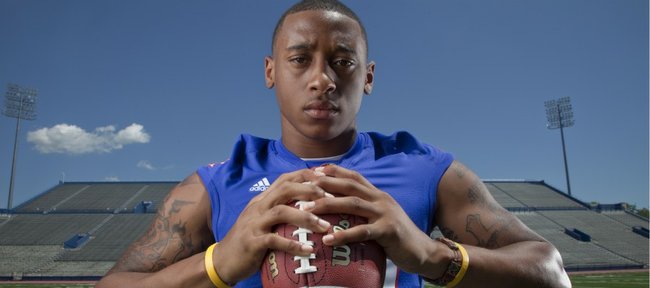 Kansas University senior linebacker Steven Johnson has a theory about why the Jayhawks' defense has played its best games of the season in its last two contests.
"For some reason, I feel like the defense goes how Bradley goes," said Johnson, of junior safety Bradley McDougald. "I feel like if Bradley plays well, the defense plays well."
There certainly is evidence to support Johnson's claim. Although McDougald's improved play of late has not led to any Kansas victories, the Jayhawks, as a whole, played with better effort and intensity on defense in a 13-10 loss at Iowa State and last week's 31-30 overtime loss to Baylor.
McDougald was a star in both games, leading the team in tackles (11 at ISU and 10 vs. Baylor) and adding an interception, a forced fumble and two pass break-ups.
"Bradley's somebody who's gonna have to lead the defense next year," Johnson said. "He's done a pretty good job the past couple of weeks, and it's just about ownership. He's doing it in practice, so when you're doing it in practice, it transfers over to Saturdays."
For McDougald, a former wide receiver, the turning point came long before the last two weeks. In fact, there actually were two. The first came sometime in September, when safeties coach Robert Wimberly called McDougald into his office and emphasized his importance.
"Coach Wimbo sat me down early in the season and told me I'd have to step my game up if I really wanted to help this defense with my actions instead of just my words," McDougald recalled. "He just showed me a couple clips of plays that I didn't make that he'd seen me make over and over in camp, and that just boosted my confidence and gave me a list of things that I needed to work on. I tried to work on something different each game until I slowly started playing better."
Asked about the impact of being called out by his position coach, McDougald said it was something that needed to happen.
"It leveled my confidence," he said. "I felt like I was playing better than I was. Once he showed me those clips, I kind of had to swallow my pride and go back to the drawing board, and I slowly started turning around my play."
Ability has never been a problem for McDougald, who, as a prep star at Scioto High in Dublin, Ohio, originally committed to Ohio State, which had recruited him as a safety. He changed his mind when Kansas entered the picture and offered him the chance to try wide receiver, too. His 6-foot-1, 210-pound frame and effortless athletic prowess make him a natural to patrol the secondary and make plays, and the Jayhawks finally are reaping the benefits.
After switching to safety for the final two games of 2010, McDougald spent the offseason and early part of 2011 reconnecting with the defensive beast inside him. A mid-season switch from free safety to strong safety further enhanced McDougald's improvement, and during the past couple of games he's started to show off just how high his ceiling can be.
While the chat with Wimberly and move to strong safety helped push him, the Jayhawks' loss at Texas encouraged McDougald to keep the switch in the on position.
"I've been playing with a lot more confidence these last few games," McDougald said. "I think it started with Texas and just going down there thinking, 'We're Kansas, they're Texas and we're not afraid of anyone.' I've just tried to extend that mentality to each game."
Although his numbers have improved and those watching have seen an improved player, McDougald said his self-evaluation came down to one thing.
"I assess my personal play with more of a feeling," he said. "Inside, you know your responsibility, you know your job, you know what you were supposed to do out there. And only you and the tape will be able to tell if you actually did that or not."
McDougald knew the time would come when he would start playing on instinct again, rather than thinking first and then reacting. It's been a long road, but he said the hard work was worth it.
"Things aren't just gonna magically happen on Saturdays," he said. "I've tried to slow the game down in a number of ways. I've been watching a lot more film and our coaches have been doing a great job of giving us looks during the week that help prepare us for the game. Great games on Saturday start on Tuesday. That's what I've always been taught ever since I was a freshman.
"Coaches always say guys are gonna pick up each other's energy out there, and if I'm the guy that sparks the rest of the defense, that kind of gives me more motivation to go out there and make plays so other guys will make plays."