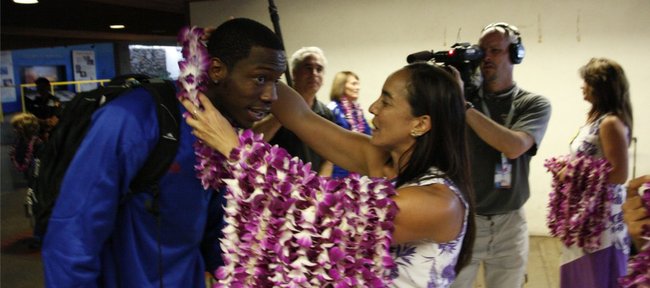 Videos
Bill Self weekly press conference: Nov. 17, 2011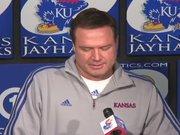 Kansas head men's basketball coach Bill Self addressed the media at his weekly press conference Thursday, Nov. 17, 2011 at Allen Fieldhouse.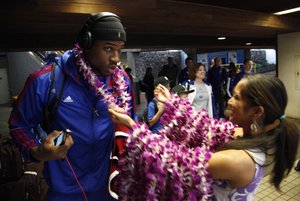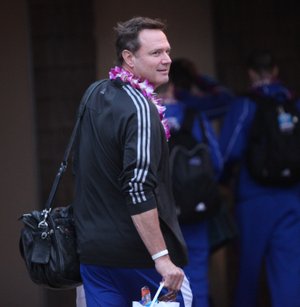 Kansas University junior Jeff Withey will swim — and maybe even snorkel — in Maui, but he will not surf.
"I've tried it before when I'm back home. I can never get up on the board. I'm too tall," said Withey, Kansas University's 7-foot, 235-pound center from San Diego. "I stand up, and it doesn't work for me. I always fall over. I can't balance up there."
Withey's father, Mike, who is slated to attend the Monday-Wednesday Maui Invitational, and brother, Chris, actually own surf boards.
"My dad's 6-6 and my brother's 6-4, so it's easier for them," Withey said. "They surf. I boogie board or play volleyball."
Withey hoped to hit the beach after practice today, a day at least partially deemed a "play day" by KU coach Bill Self.

The Jayhawks, who arrived via charter Friday afternoon, also will have some leisure time after their third and final game of the eight-team tourney.
"I've never been around clear water. I'm excited for that," Withey said. "In our free time, I'll be jumping in the ocean for sure."
He may even watch his KU teammate Jordan Juenemann hang 10.
"I tried surfing with Jeff once in San Diego," said Juenemann, a native of Hays. "I got up one time. It'll be cool. Jeff was talking about it the other day. The water is going to be so great."
Freshman Merv Lindsay, who hails from Moreno Valley, Calif., is thrilled that the Maui Invitational is on KU's schedule during his first year on campus.
"I think everybody will like it. Nobody I've talked to on the team has been to Maui. Everybody is going in head first," he said with a smile.
Withey, who played in the high school Maui Invitational his first season at San Diego's Horizon High, is the only Jayhawk player who has visited Maui.
"I've never been to Hawaii. I am really excited about that. It's the farthest I've been outside the mainland," said sophomore guard Niko Roberts, a native of Huntington, N.Y. "I am excited as anybody to go to Hawaii because I've always wanted to go to Hawaii.
"We'll probably have a little bit of leisure time, but our main focus is to win games and play basketball, not to hang out. If we keep our focus we may get to have a little time off," Roberts added.
Ninth-year KU coach Self said the best way to "have some fun is win. That's more fun than anything else. The guys know that."
The winner of Monday's KU-Georgetown game (11 p.m., Central time, Lahaina Civic Center) will meet the winner of UCLA-Chaminade at 8:30 p.m., Tuesday. The losers of those two games will play at 3:30 p.m., Tuesday. Third-round games are Wednesday.
"I think it'll be a great time, but our focus is on winning the tournament," Withey said. "It's a great field, and we have to do our best to win. We're excited about playing (2-0) Georgetown. I'm excited about this tournament. Everybody knows about the Maui Invitational. Everybody watches the Maui Invitational."
First-round games on the other side of the bracket: Michigan-Memphis (2 p.m., Monday) and Tennessee-Duke (4:30 p.m., Monday).
"It's a business trip first of all, but it's a nice place to play," Juenemann said.
White update
Andrew White, a 6-6 senior small forward from Miller School in Charlottesville, Va., told Rivals.com he will orally commit to a college "the week after Thanksgiving. I don't have an exact date, but it will be in that few days after and then I will sign in the spring. After I make that decision I'm not going to be looking at other schools so that commitment will be just like me signing."
White, who is ranked No. 56 nationally by Rivals.com, is still considering KU, Texas, Georgetown, Richmond, Cincinnati, Virginia Tech and West Virginia.
"I'm just trying to do what's best for my personal career and I'm not caught up in trying to play the recruiting game or to string schools along and I'd really like people to know that," White told Rivals. "You know going back to the summer before I started getting recruited and looking at where I am now, just getting enough attention to select the school of my choice is great."